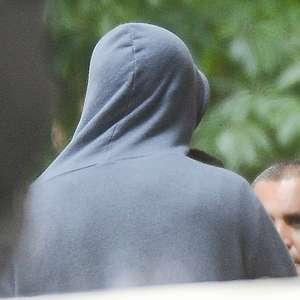 Now that the eighth season of "Keeping Up with the Kardashians" has premiered, we're going to be force-fed even more stories about the Kardashian Klan. Don't even bother trying to fight consumption. Just open your mouth and take it. Uh, no SVU, of course.
That said, Page Six says that a "hoodie-wearing Kanye West snuck into girlfriend Kim Kardashian's baby shower in Beverly Hills over the weekend." The story goes that he "didn't want to attend the baby shower because he was worried he'd be the only male there." In fact,  Kourtney Kardashian recently told Ryan Seacrest on his radio show that, "It's girls, but Kanye will come at the end."
Translation: Khloé Kardashian Odom was going to put them paws on Yeezy if his ass didn't show up.
Other men attended, including Lamar Odum and Scott Disick. Other celebrities included Spice Girl Melanie Brown, Kelly Osbourne, Maria Menounos, Brittny Gastineau, Tracy Anderson, Kimberly Stewart and more. I'm sure Beyoncé was invited, but both parties knew she wouldn't come. I'm sure the Carters sent a lovely gift, though.
What I found most interesting about all of this, though, is that apparently Kimmy's stepdad, Bruce Jenner says he has only met Kanye once.
He told Extra over the weekend, "Actually, I have only met him once. He's never … he's not around. He was in Paris the whole time writing, and he just hasn't been around."
Now you know that family doesn't get down like that. Oh well, good luck to them and their daughter, who will undoubtedly be the Kelly Rowland to Blue Ivy Carter's Beyoncé. And that's no shade 'cause in 2013, Kelly Rowland is winning.
Be the first to receive breaking news alerts and more stories like this by subscribing to our mailing list.