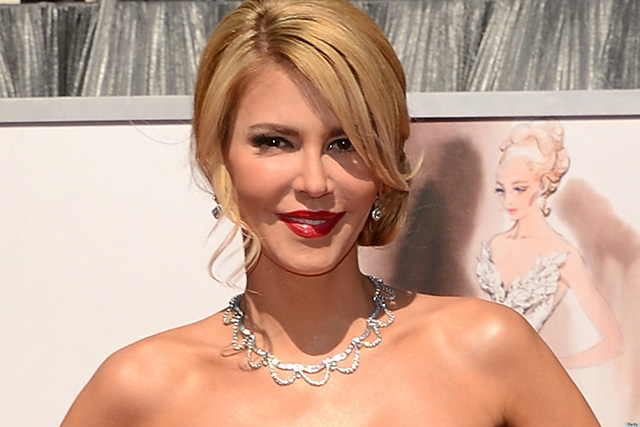 Brandi Glanville felt the need to take to Twitter on Monday and proclaim her status as a non-bully.
The "Real Housewives of Beverly Hills" star has had a long-standing feud with LeAnn Rimes and has frequently utilized Twitter to call the singer out on her shit. Yet the 40-year-old claims:
I do not harass or bully people on twitter, never have , never will. I may say fuck off and that I def mean, but thats to the haters.

— Brandi Glanville (@BrandiGlanville) May 27, 2013
In case you've managed to avoid any and all news related with Rimes and Glanville (in which case, please advise me on how to pull that off), years ago, Rimes began having an affair with actor Eddie Cibrian while he was still married to Glanville. To complicate matters even further, the now divorced couple have two children together.
Last week, Glanville tweeted Cibrian because she claimed she wasn't able to reach him or her kids. Rimes tweeted back and a hot mess erupted.
Glanville tweeted last Monday:
"Ive been trying to get a hold of my kids 4 over an hour no response to my calls, emails or messages. Maybe twitter will work"
Rimes replied:
"Funny, she just got off the phone w/ them. Sorry, we were doing baths, homework & dinner. All good! The phone rang, I picked it up. Never saw this til after. All you gotta do is call."
Glanville then shot back:
"I tweeted the father of my boys Mon night after trying to reach them for an hour. I dont know Y ANY1 else tweeted me back with involvement … The kids called me 1 minute after that tweet #therealtruth Im so sick of BS lies I tweeted EC not his wife she should mind her business."
The affair happened back in 2009. As hard as it must have been for Glanville to go through such a humiliating public breakup, it's unfortunate that she let herself remain associated with the mind numbingly annoying pair.
So why won't this chick just let this issue die, and why does she continue to tweet about it? Perhaps she want to make sure she continues generating attention for herself.
Be the first to receive breaking news alerts and more stories like this by subscribing to our mailing list.