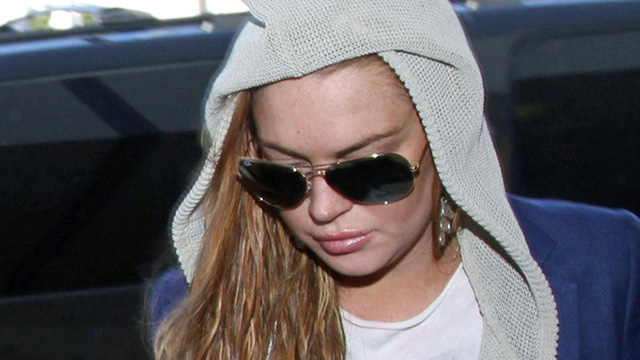 When Lindsay Lohan collaborated with DNAM to launch a line of leggings in 2008, she was pretty much laughed at. That probably had something to do with the fact that one of the items had built-in kneepads to assure comfort during blow jobs. (Yes, you read that right!)
Named the 6126 Collection, the date of Marilyn Monroe's birthday, the line initially received a ton of press, but as the years went on, it failed to lure buyers and was ultimately pulled from major stores like Nordstrom and Neiman Marcus.
It didn't help that the California-based apparel company was accused of stealing designs from Jen Kao and James Lillis, or that from 2008 until now, Lohan's reputation has dwindled significantly.
Now the brand is suing Lohan for $5 million, claiming that her "drug-addled image" had detrimental effects on the line. According to TMZ, Lohan is being accused of "breach of contract and fraud."
But Perry C. Wander, the star's attorney, tells the site that the company's suit has no merit.
"The license agreement does not have a morals clause that allows the company to suspend payment for any behavior," he said. "The contract is not in LL's name thus she cannot be held personally liable. The cross claim is therefore frivolous and totally without merit and will be defended vigorously."
It's funny … Lohan, who is currently undergoing treatment at the Betty Ford clinic in L.A. for her substance abuse issues, or something, attempted to sue DNAM back in January for $1.1 million because she believed she was stiffed out of royalties.
Something tells us we haven't heard the last of this story.
Be the first to receive breaking news alerts and more stories like this by subscribing to our mailing list.