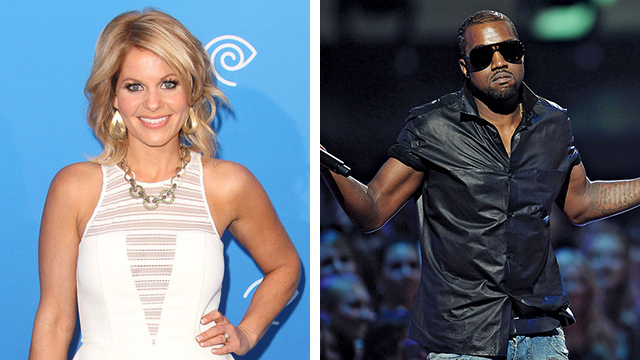 The artist formally known as DJ Tanner is NOT feeling the title of Kanye West's forthcoming album. During her interview on "Sway In The Morning," actress Candace Cameron Bure — best known for her role as DJ Tanner on the hit 90's show "Full House" — shaded Yeezy for his album title 'Yeezus.'
According to her, it shows his lack of "humility." Hello, welcome to hip-hop, DJ Tanner. Have a seat and a sip of Hennessy.
Candace went on:
"There's a million other names out there … And you could have chosen one that is not one letter off from Jesus. I mean, that's just a little too close. Come on. He's actually comparing himself to Jesus. Really?! Should any of us be doing that?! Maybe you should change your name to 'Uda!'

"I think it's more, it comes from a humility point of view. That I would be humbled enough for what Jesus did for me that I don't want to in any way elevate myself or put myself side by side," she added. "Because I'm humbled by his gratitude."
She doesn't care for Jay-Z calling himself "Hov" or "Hova" either. "HOVA for Jehova is also way too close," she said. "It bugs me. It totally bugs me."
For the record, Candace is the sister of Kirk Cameron, also an ex-child star and current Jesus freak. Kirk does those movies about the end of the world. You know, if you're into that.
WATCH CANDACE CAMERON'S INTERVIEW HERE:
Be the first to receive breaking news alerts and more stories like this by subscribing to our mailing list.