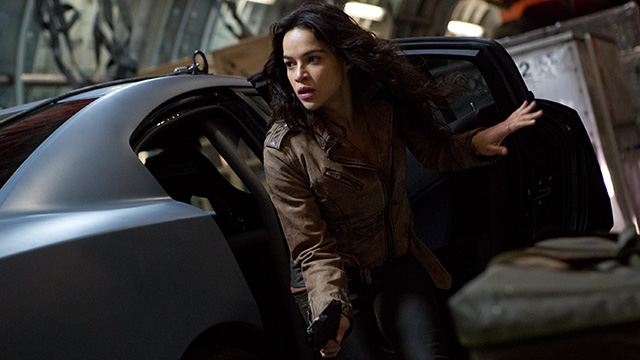 She's fierce, she speaks her mind, and she isn't afraid to stand up to Hollywood big wigs. That's why Michelle Rodriguez is speaking openly about her frustration with the role of women in the film industry ad her plan to take matters into her own hands.
According to GMA news, in a recent press appearance for "The Fast & the Furious 6," Rodriguez noted the scarcity of decent female characters.
"It's so hard to find really good writers. It's a fairly new, last-twenty-year thing to have strong, independent, free-spirited women on film," said Rodriguez, adding, "Eighty percent of the writers are guys, most of them are married in Beverly Hills and they're married to some woman who obviously annoys them or they wouldn't write the way they write."
The 34-year-old also revealed that she's looking to develop her own projects to try and correct that imbalance. "It's just a matter of just getting more female writers in the business, which is my next move," sshe said.
Indeed, the raven-haired actress has a point. In January, Indie Wire published a study conducted by the Sundance Institute and Women in Film that revealed there is only 1 female director for every 15.24 male ones in Hollywood.
Yikes!
Earlier this month, Jezebel published a report released by the USC Annenberg School of Journalism, which concluded that in 2012, women held less than a third of the speaking roles in high-grossing films.
The findings also illustrated that most of the women that were shown were either wearing revealing attire or were featured in a sexualized state, or both.
Rodriguez established her kick ass persona after making her on-screen debut as a boxer in the 2000 film "Girlfight." She later maintained her "touch chick" edge in films like "Resident Evil," "S.W.A.T," "Machete," and of course, the "Fast & the Furious" franchise.
Fans can soon catch the actress in the highly anticipated sequel "Machete Kills," opposite a predominantly female cast that includes Jessica Alba, Sofia Vergara, Amber Heard, and Vanessa Hudgens.
Be the first to receive breaking news alerts and more stories like this by subscribing to our mailing list.