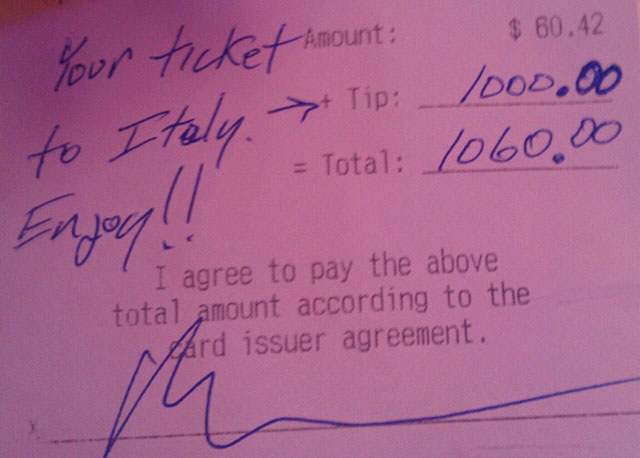 Earlier this year, a horrid tale of waitressing made headlines when a pastor acted like a total a-hole towards an Applebee's server. Now a user on Tumblr has shared a touching story about an unexpected tip her mother earned while waiting on a tremendously generous customer.
According to this Tumblr post, the woman has been struggling to support herself even though she is thoroughly educated. After telling a customer that she's always wanted to go to Italy, she received a $1,000 tip on a $60 bill with a note that read "Your ticket to Italy. Enjoy!!"
This is what the post read:
So my mom and I have been working the same waitress job for 5-6 years now. She had been waitressing years before, but this is recently. Anyway, about… 15 minutes ago this guy she waited on left and told her to take care. Just that. Prior to this she had talked to him about Italy. Her people are from Florence, this and that, and she said she's never been. She's got 8 years of art education and she's working a waitress job. It's pretty… Sad and disappointing, I guess. Her and my father divorced 6 years ago and she hasn't had a real job ever. Just been stuck in a small town she's not from.

This man who we have never seen before tipped her 1000 dollars for a trip to Italy. Walked out, not another word.

…you know. Just when I start to lose faith in humanity….
As of now, the post has received over 117,000 notes.
When I first heard about the story, I assumed some Wall Street big wig left the tip to get into some chick's pants, but thankfully I was wrong. Obviously, this story has garnered positive attention since it's extremely rare to hear about something good happening to someone who's slaving away and struggling.
This makes me feel so happy and secure. As we hear new terrible stories and new unfortunate events on the news we begin to believe that human kind is rotting. That we should not have faith in humanity. But you can not base a whole generation off of the small senseless acts of some bad seeds. Sadly, the media publicizes events that show the terrible side of humans rather than the acts such as this which show how beautiful people can be. I try to remember every day that there is hope out there and pray that these people continue to spread their kindness.
More stories of people with cash to spare being generous, please!
[H/T: Jezebel]
Be the first to receive breaking news alerts and more stories like this by subscribing to our mailing list.