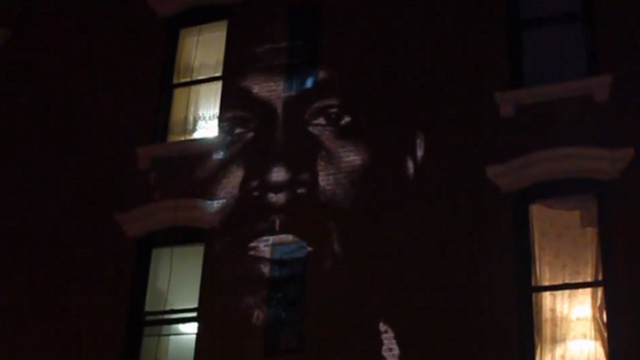 Kanye West might be two steps away from being admitted to the loony bin, but one thing you can't say is that the man isn't something like a marketing genius.
West has been debuting his new song called "New Slaves" all over the world in one of the most unique ways we've ever heard before … by projecting a visual on the side of random buildings all over the world.
He tweeted last night:
NEW SONG AND VISUAL FROM MY NEW ALBUM BEING PROJECTED TONIGHT ACROSS THE GLOBE ON 66 BUILDINGS, LOCATIONS @ KANYEWEST.COM

— KANYE WEST (@kanyewest) May 18, 2013
His official website shows a map of 10 cites. Taking a closer look at each of the cities reveals 66 landmarks and buildings in prominent locations all over North America (New York, Toronto, Los Angeles, San Francisco, Chicago and Miami), Europe (London, Paris and Berlin), and Australia (Sydney).
The black-and-white video being projected against buildings shows an image of Ye's face as he raps along to the music, with powerful lyrics like:
"You see it's leaders and it's followers, but I'd rather be a dick than a swallower"
and:
"My mama was raised in an era when, Clean water was only served to the fairer skin / Doing clothes you would have thought I had help, But they wouldn't be satisfied unless I picked the cotton myself"
and:
"You see its broke nigga racism/That's that 'don't touch anything in the store' / And there's rich nigga racism/That's that 'come in and buy more … What you want a Bentley, fur coat and diamond chain? / All you blacks want all the same things … Used to only be niggas, Now everybody play me / Spending everything on that Alexander Wang / New Slaves"
Watch a couple of the projections here:
It's being said that this is his new single and it will most certainly be featured on the follow-up to Kanye's 2010 album My Beautiful Dark Twisted Fantasy — which is due out June 18th.
Meanwhile, Kanye will reportedly perform new material from his upcoming sixth solo album tonight on SNL, and from what he did last night and we can't to see what this guy's got up his sleeves.
[H/T: Rap-Up]
Be the first to receive breaking news alerts and more stories like this by subscribing to our mailing list.