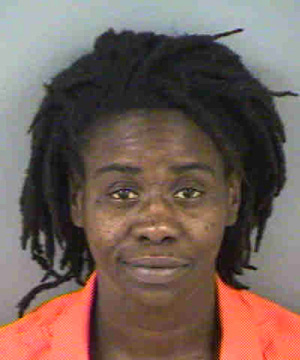 Florida man isn't the only one causing trouble in The Sunshine State. Ladies and gentlemen, meet Florida WOMAN, and she's just as dangerous/crazy as her male counterpart.
37-year-old Deborah Ann Burns, from Immokalee, Fla. — looking lovely as ever in her mugshot (right) — is accused of throwing an 8-inch-long kitchen knife at her boyfriend because he farted in her face. That nasty mofo.
According to the police, Burns told Collier County detectives that she and her boyfriend were watching TV last Tuesday night (May 7) when the boyfriend purposely passed gas right in her face while he walked by her on his way to the kitchen. An argument ensued and police were called.
When the police showed up responding to a report of a possible stabbing, they found the boyfriend in front of the house, with multiple cuts on his abdomen and left arm.
The victim told police that he and Burns were arguing in the kitchen over money and she threw a knife at him, left the house, but then came back and hit him in the arm with a stick.
The police report states that the victim made no mention of the alleged flatulence, but he "continually stated if [Burns] returned he would kick her ass," naturally.
Burns' side of the story, however, is a bit different. She told detectives that their argument had nothing to do with money, and her boyfriend had become loud and agitated after she confronted him about him farting in her face.
Following the incident, Burns was arrested and charged with aggravated battery with a deadly weapon — a felony. She remains in the county jail on a $50,000 bond.
According to The Smoking Gun, Burns is a convicted felon, and previously spent 21 months in state prison for aggravated assault with a weapon and battery on a law enforcement officer. It isn't known whether or not he too farted in her face.
Be the first to receive breaking news alerts and more stories like this by subscribing to our mailing list.