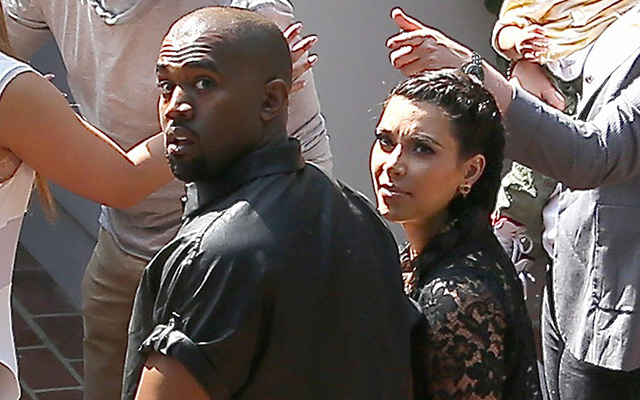 Apparently, we're not the only ones who saw that video of Kanye West not opening the door for Kim Kardashian and thought, "That jackass."
According to Radar Online, members of the Kardashian Klan are increasingly concerned that 'Ye is not giving Kimmy the respect they feel she deserves. Well, their definition of being disrespectful is different from the average person otherwise known in America as the members of the working poor.
You see, 'round their Calabasas villa the mantra is, "Cash rules everything around me. C.R.E.A.M. get the money. Dollar, dollar bills, y'all."
Needless to say, it's not surprising to hear a source saying:
"Kris is also concerned about how Kanye acts around the paparazzi. The Kardashians have made their names off the back off being photographed, but Kanye has a real aversion to it."
In other words, "You don't mess with the church's money, dammit!"
The source added:
"The incident in Beverly Hills last Friday when he walked into the street sign was just the latest in a string of issues that have concerned Kris. When they were in Paris, Kanye kept telling the paparazzi to leave him and Kim alone. But as a manager, Kris wants Kim and Kayne to be photographed; it's their gig."
So Kanye sometimes looking at Kim look she's a bee sting to his scrotum in the public isn't the issue here; no, him not wanting said look photographed by a paparazzo she probably called is the real problem.
Fortunately, the other family members are worried about other matters:
"Like everyone else, Kim's sisters and mom saw the video of Kanye and Kim in Paris. They were more than a little shocked, to say the least!" the source said.

"Kris told a friend she couldn't believe that Kanye didn't think it was the right thing for him to do to open the door for a six-month pregnant woman. But Kris has long lamented that it's always been all about Kanye — and not Kim."

Said the source, "He's ambivalent about spending time with Kim and the family unit. As everyone knows, the Kardashians are a tight-knit group so it has come as a shock to everyone that Kanye just doesn't want to spend time with them.  When he does, it's like he's got eyes on the exit door to make a quick getaway."

On April 29, Kanye flew into Greece for a quick meal with his pregnant reality star girlfriend's family in Mykonos before the couple took a private plane to France.

If Kim is disappointed about Kanye's odd behavior, she's not showing it, according to the source. "Kim expects to be treated like a princess. She always has been in the past. But with Kanye, she's not. She can't see it, however, because she's besotted. She refuses to soak up just how self-absorbed he is, despite everyone telling her just how it is."
Well, Kim doesn't exactly have a history of dating men who treated her well, now does she? You better watch it, Yeezy. Pretty sure Khloé could tombstone your ass like the Undertaker.
Be the first to receive breaking news alerts and more stories like this by subscribing to our mailing list.