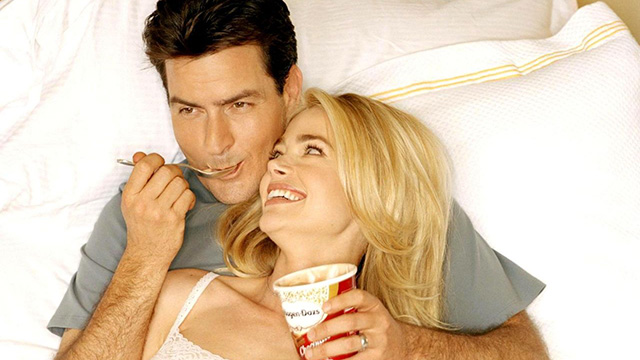 In case you didn't know … there's still one person left in the world that has a high opinion of Charlie Sheen.
Denise Richards, who spent Mother's Day shooting her next film "Twisted" in New York, was flown privately to L.A. by none other than Sheen after filming for the day concluded.
Apparently that's when 42-year-old actress took to Twitter (via Instagram) to praise her ex-husband.
"Greatest ex @charliesheen," Richards tweeted with an Instagram pic of her looking out of a plane window. "My mom's day gift flying me home on his plane so I can take the kids to school."
Richards and Sheen married in 2003 after meeting on the set of the straight to DVD stinker "Good Advice." They divorced in 2006.
The pair have two children together, 9-year-old Sam and 7-yea-rold Lola. Richards' perception of Sheen has no doubt shifted since she filed for divorce from the actor while she was pregnant with their second child. At the time, The Smoking Gun reported that during a divorce hearing, Richards accused Sheen of assaulting and threatening to kill her. She also filed a restraining order.
Richards also alleged that Sheen was into porn films starring seemingly underage girls, among other shocking allegations.
In addition to the children that she has with Sheen, the actress is currently caring for her adopted daughter Eloise, now 22 months and the two-year-old twins, Bob and Max, that Sheen welcomed with ex Brooke Mueller.
Sheen and the sociallite/sometime actress were married from 2008 to 2011. In 2010, Sheen was arrested for attacking Mueller but remarkably, their marriage didn't end until Sheen filed for divorce in late 2011.
Richards became responsible for the twins earlier this month when Mueller checked into rehab for the 20th time (not an exaggeration).
According to Us Weekly, the Department of Children and Family Services removed the boys from Mueller 's home, labeling it an unsafe environment. According to her rep, she is getting treatment for prescription drug use.
Be the first to receive breaking news alerts and more stories like this by subscribing to our mailing list.