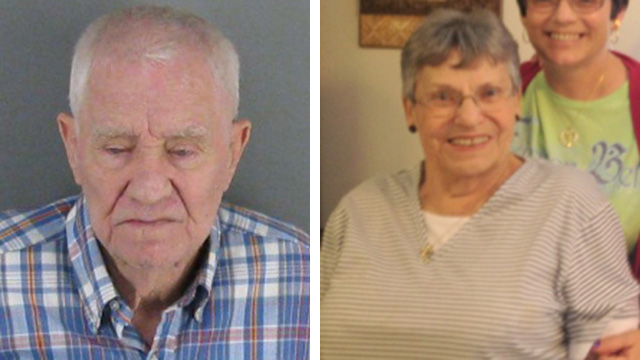 An 88-year-old North Carolina man is facing a first-degree murder charge after he shot and killed an 80-year-old woman (who was his roommate) on Mother's Day, of all days.
According to Gaston, N.C. police, the shooting took place as the woman, Vivian Schronce, returned home from Sunday morning service.
The man, Charles Edwin Venn, had drunk a couple of beers that morning, and the two were fighting over it when Venn, who had a handgun, "fired several rounds," one of which struck Schronce. She was taken to Gaston Memorial Hospital where she was pronounced dead.
"Any time you add alcohol and firearms, it's just a deadly mixture," Gaston County Police Capt. Jay Human said.
Vivian's daughter Leanne Catoe spoke with The Gaston Gazette and told them she had just cut her mother's hair on Saturday so that she could look good for church on Mother's Day, which fell on a Sunday this year.
"I sat in church beside her, and I had this weird feeling and I scooted closer to her," Catoe said.

After church Catoe's 80-year-old mother kissed her and told her to come by for pot pie.

Catoe drove to the grocery store and saw an ambulance go by as she headed back to her mother's home. A sick feeling settled in her stomach. Catoe hurried to her mother's home to find paramedics doing CPR on her mother.

"And all I could say was, 'God, no. God, no.' And then we get to the hospital and they said that she'd been shot," Catoe said. "Why would anybody shoot a grandmother, a great-grandmother?"

Schronce was a kidney cancer survivor and a caretaker, Catoe said.

"My mom cared for everybody — everybody. That's all I've ever known her to do," Catoe said. "We called her Florence Nightingale."

People in Pine Grove Trailer Park off Hickory Grove Road called Schronce "Grandma."

A Gaston County Jail cell holds Venn. He's being held without bond because of the murder charge. Catoe's still in shock that her mother is gone and says her death just doesn't make sense.

"She's all I had," Catoe said. "I'm not ready to be the matriarch of this family."
Be the first to receive breaking news alerts and more stories like this by subscribing to our mailing list.