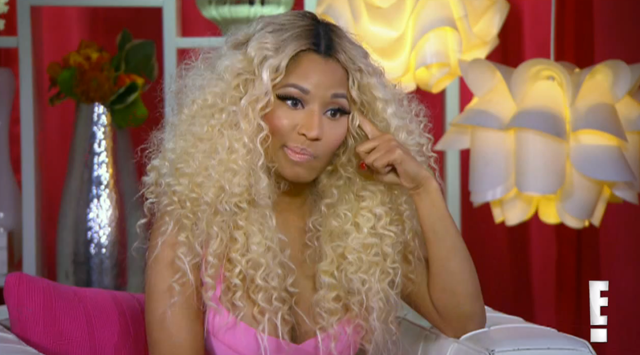 It's no secret that Nicki Minaj and Mariah Carey won't be sending each other holiday cards this Christmas. After their various tiffs during their stint as judges on "American Idol", people have wondered where it all went wrong. Nicki Minaj does too.
In an exclusive sit-down interview with "Idol" host Ryan Seacrest, Minaj addressed her relationship with Mariah head on.
When Seacrest asked the Young Money rapper to describe her relationship with Mariah, Nicki said, "Imagine someone that you loved your whole life, imagine you meeting them and then all of a sudden feeling like you did something horrible to them but you just don't know what you did."
If you'll recall, Minaj and Mariah collaborated early on in Nicki's career for Carey's track "Up Out My Face."
Based on that experience, Nicki was under the impression that she and Mimi were friends. But she thought wrong.
"I just really thought that we were friends. But that's the other thing I learned: This industry is so fake! You walk away thinking people are your friends, and they're not. It's a couple nice hi and byes, and then really, you better not step on nobody's toes. And God forbid you get a little shine and God forbid you're maybe witty or quick on your toes or make someone laugh, then maybe you're making another person feel insecure. And you shouldn't have to dim your light to make another person shine," Nicki said.
Damn. Nicki laid it all out there.
Throughout this whole "beef" with Mariah, Nicki's been an open book while Mariah has thrown her stones and hidden her hand.
Will Seacrest pin Mariah down for a similarly revealing interview? Doubt it. But it'd be nice.
WATCH A CLIP OF NICKI'S INTERVIEW WITH RYAN SEACREST BELOW
[TGJ]
Be the first to receive breaking news alerts and more stories like this by subscribing to our mailing list.