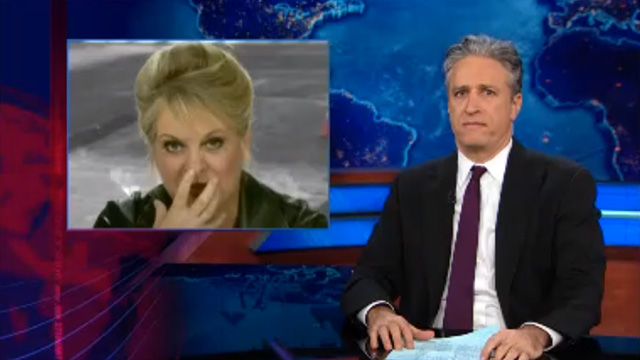 On Thursday's episode of "The Daily Show," Jon Stewart pointed out something that has been obvious for quite some time … Nancy Grace gets off on gruesome murder trials.
"Nobody slurps each lurid detail like it was a perverse joy, like they were an engorged tragedy tick — wait a minute, is that Nancy Grace?" Stewart said. Stewart also added that Grace, "draws youth and vitality from human tragedy."
While most people have now heard of Jodi Arias, the victim's name seldom makes headlines. In June 2008, Travis Alexander was found brutally murdered in his bathroom. Police determined that he had been shot and viciously stabbed multiple times.
Arias lied repeatedly about what happened to Alexander. First she claimed that she was not anywhere near the his house the night he died. But police found a camera containing photos of the two together that were taken on the date Alexander was killed.
Shockingly, some of the photos appeared to have been taken during the murder.
After she was caught, Arias said she witnessed two intruders stab him but that she was able to escape (but not before grabbing her purse, we may add). Arias drove away and went to her lover's house. She didn't call the police and didn't tell anyone what happened.
One of two things was obvious at this point. Either Arias hated her ex so much that she watched him get stabbed and left him bleeding on the floor never to look back, or she's a total fucking liar.
The latter seemed to be correct when she changed her story yet again — claiming that she in fact stabbed Alexander but only because he was abusing her. That totally makes sense because everyone knows that the only way to stop someone from hurting you is to stab them roughly 27 times (the number of times Alexander is believed to have been stabbed) and then shoot them (some investigators have determined that Travis was dead by the time he was shot).
We're no crime experts, but we're going to assume that it takes about one, maybe two stabs to let someone know to step off.
On Wednesday (May 8), a jury found her guilty (surprise!) of first-degree murder. Sadly, Arias (probably false claims) could have a hand in discrediting women who have really been abused and are forced to kill in order to defend themselves.
Be the first to receive breaking news alerts and more stories like this by subscribing to our mailing list.