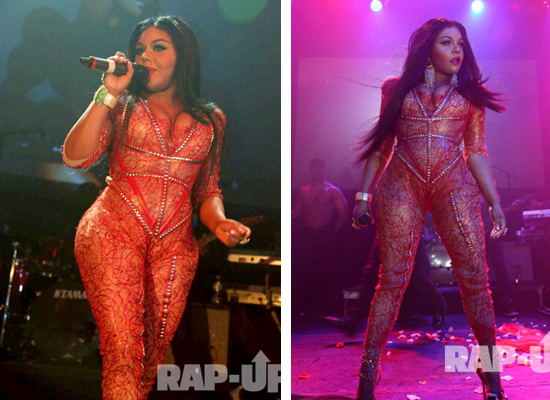 The struggle, as they say, continues for hip-hop founder and archivist Lil Kim.
The rapper hasn't yet pulled together a new album out of her magic hat, but Kim is still hard at work on the road delivering them hits to her fans. When she feels like it.
Rap-Up was there at the Gramercy Theater for her stop in NY. The singer wore a cringe-worthy red onesie that looked like a vise was needed to squeeze her into.
The end result has Lil' Kim looking like an overcooked and overstuffed Vienna sausage. Why won't Kim realize that smedium is not a good look on her porky petite body frame?
As if the outfit wasn't bad enough, Kim's stagecraft looked to be in equally sad shape as she stumbled through her set, out of breath and with very little stamina. She pretty much looked pregnant with fail and misery throughout her show. Won't somebody, anybody help Lil' Kim help herself?
CHECK OUT PHOTOS AND FOOTAGE OF KIM'S GRAMMERCY SHOW BELOW
"How Many Licks"
"Cheatin' (Man Down Remix)"
"It's All About the Benjamins"
Be the first to receive breaking news alerts and more stories like this by subscribing to our mailing list.