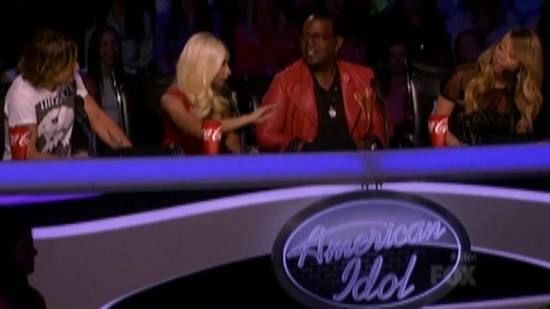 Just when you thought it was over, the battle of the "American Idol" divas continues. On Wednesday night's episode (Apr 17), which just so happened to be "divas" night (LOL), Nicki Minaj and Mariah Carey went back and forth over a disagreement about contestant Kree Harrison's performance of "She Talks to the Angels" by The Black Crowes.
Apparently, Nicki thought it was Kree's best performance of the night, but the "Idol" hopeful didn't get the same cosign from Mariah, who clearly did not agree with Nicki think it was her best performance.
After a bit of tussling back and forth Nicki continued on with her critique of the performance and told Mariah "OK, simmer down … sir" as Mariah calmly chuckled it off.
Hey, at least their speaking to each other now! Baby steps, people. Baby steps.
Nicki's shade-filled comment towards Mariah Carey wasn't the only notable part of the night though. As the episode aired, Nicki's outfit went viral on Twitter because fans thought it was bit a "stripper-ish."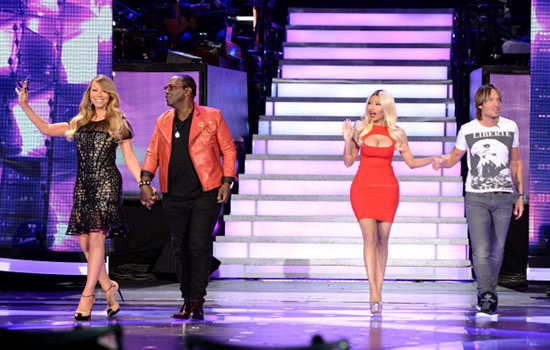 Nicki's red dress was short and tight, showing off every inch of her curves, and was topped off with a revealing cut-out bustline. And while Nicki Minaj isn't exactly known for being "conservative," whether verbally or visually, it seems like the outfit might have been a little too far out there for some viewers … though let's be honest, it could have been a lot worse.
This was actually a more "sophisticated" look for Nicki, seeing as we've all probably seen the rapper in other outfits that were clearly more "revealing." But, whatever Twitter. You know best.
Take a look at a few reaction tweets below:
I know it's bad that I was watching idol, but you should google nicki minaj's outfit on tonights show, because she looked like an idiot

— Hannah (@hannahjrobb) April 18, 2013
Just look at Nicki Minaj's outfit in American Idol. Smh

— Vino(@jrev1000) April 18, 2013
Nicki minaj's outfit is very stripper like #idol #lapdance

— Breakfast @Tiffany's (@tiffany_4prez) April 18, 2013
Who let nicki minaj wear that dress on American idol she looks like a stripper

— Brian Solitario (@TheOnlySolly) April 18, 2013
nicki minaj's dress on american idol tonight hahahahaha what the hell

— lindsayyyyy (@lindsayr0se) April 18, 2013
Nicki minaj's dress on American idol tonight is definitely a no! Eww ???? #smh

— Raegan Thompson (@raeganethompson) April 18, 2013
First time watching American idol this season… Already dislike nicki minaj's dress. Like really? Why are you wearing that? #notcute

— Alice (@katelynnygren) April 18, 2013
Be the first to receive breaking news alerts and more stories like this by subscribing to our mailing list.