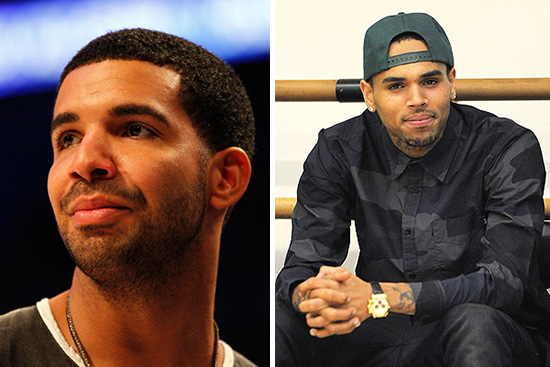 It's pretty common knowledge that Chris Brown and Drake don't really care for each other at this point, but recently, Drake let it be known how he really feels about Chris and didn't hold anything back as he opened up about that, as well as his "relationship" with Rihanna.
Drake sat down with noted Hip Hop journalist Elliott Wilson on his "Keep It Thoro" Internet radio show the other night, and out of nowhere, the rapper slammed his R&B rival live on the air, saying: "For any media out there, don't ask me shit about that man when I come up there and leave that man alone. Stop preying on his insecurities."
FAST FORWARD TO AROUND 31:00 FOR THE CHRIS BROWN BIT
He went in even further, and threw in a quick jab about his fling with Rihanna: "His insecurities are the fact that I make better music than him, that I'm more poppin' than him and that at one point in life, the woman that he loves fell into my lap."
Drake added: "I did what a real nigga would do and treated her with respect. All them things combined create an individual that comes up to your radio station and is just gonna do dumb shit. It shouldn't be about tearing that man down. It shouldn't be about wanting to see me and him tear each other down."
Drizzy then tried to make light of his beef with Chris, saying that one day it could possibly no longer be an "issue."
"We have an issue and it's either gonna drag out or maybe in ten years we'll laugh about it over drinks, but just let us solve that shit," he said.
We're not exactly sure what made Drake really go in like that … because a few weeks ago Chris did an interview with the Breakfast Club on New York's Power 105.1, and he kept it cool when they asked him about Drake. He simply stated, "We just don't like each other, that's it."
Chris seems to be taking the high road regarding his "beef" with Drake too. In an apparent response to Drizzy's interview, which was conducted Friday night (Apr 12), the "Fine China" singer simply tweeted the following cryptic message that isn't really so cryptic at all, based on its timing:
Lol

— Chris Brown(@chrisbrown) April 13, 2013
How long do you think this beef between Drake and Chris brown will last?
Be the first to receive breaking news alerts and more stories like this by subscribing to our mailing list.