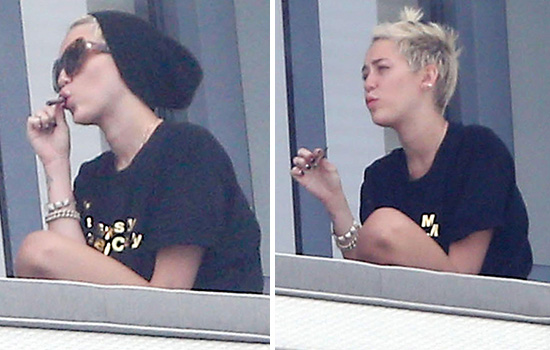 BREAKING NEWS: Miley Cyrus — the artist formerly known as Hannah Montana — smokes weed!!!
Shocking … right? I mean, this should definitely be news to EVERYONE, considering her collaboration with Snoop Lion called "Ashtrays and Heartbreaks" (an obvious ode to smoking weed), that picture she posted on Instagram of her smoking a FAT blunt, that video from a few years ago of her sucking down a bong full of salvia — which is just like weed. And then there was that one time when her friends gave her a Bob Marley birthday cake and she said: "You know you're a stoner when your friends make you a Bob Marley cake … You know you smoke way too much fucking weed!"
The breadwinner of the Cyrus family — let's be real, "Achy Breaky Heart" hasn't paid the bills in years — was hanging out with friends on her hotel balcony in Miami over the weekend when those nosy paparazzi people snapped some pics of her smoking a blunt.
The real news though, is that Miley isn't wearing her engagement ring … even though she says she and her fiancee Liam Hemsworth are doing fine, despite rumors suggesting otherwise.
CHECK OUT MORE PICS OF MILEY CYRUS SMOKING A WEED BLUNT BELOW:
Be the first to receive breaking news alerts and more stories like this by subscribing to our mailing list.