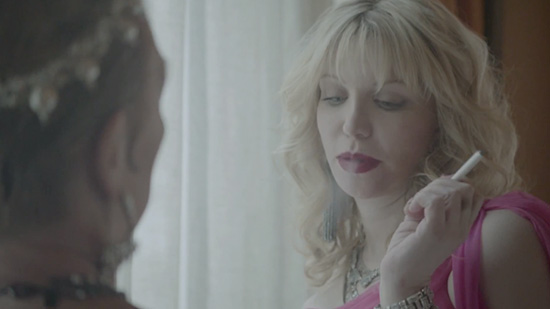 Courtney Love, who loves herself a good cigarette every now and again day, is now the face of "NJOY" — a brand of electronic cigarettes — and the company released a new ad  that is SO HER.
In the 50-second commercial, Love — after being snitched on by an uptight, prissy woman hater — is approached by an older woman who tell her that she's not supposed to be smoking indoors, to which Love responds, "Relax … It's a fucking NJOY," and then she walks away, Courtney Love style.
WATCH HERE:
Haha! I love it. I'm making "Relax … it's a fucking NJOY" my new catchphrase. No, scratch that. I'm going to randomly shout that out whenever someone says something I don't agree with.
An usher: I'm sorry ma'am, but you can't sit here; this seat is reserved.
Me: Relax … it's a fucking NJOY!
A cashier: Our company policy states that you must have your receipt to make any returns or exchanges.
Me: Relax … it's a fucking NJOY!
My next door neighbor: Hey, you! I saw you run over my mailbox last night. Why did you just drive off like nothing happened?
Me: Relax … it's  fucking NJOY!
Be the first to receive breaking news alerts and more stories like this by subscribing to our mailing list.