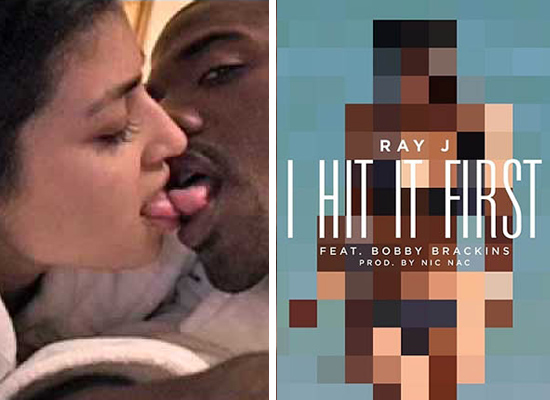 If there's a mental illness for someone who can't get over their ex, then Ray J is probably one of the most undiagnosed mofos afflicted with this disease on the planet.
Thirsty for relevance and attention, Ray J has turned to his more famous, multimillionaire, pregnant ex-girlfriend Kim Kardashian as the inspiration for his new single, "I Hit It First." The cover art for the single even uses a pixelated photo of Kim Kardashian on the beach in a bikini, which is an allusion to the artwork for Kanye's similarly pixelated "My Beautiful Dark Twisted Fantasy".
But Ray J doesn't stop the ratchetness there, he goes in on the lyrics too.
She might move on to rappers and ballplayers,
But we all know I hit it first.

I had her head going North and her ass going South,
But now baby chose to go West
You know what? Kim Kardashian might be a hoe and she might sleep around with more black men than a groupie on the stroll at NBA's All-Star weekend, but at least she's building her fame on her name alone. If Ray J wants to blast Kim for sleeping around (which is a joke given his own for bed-hopping), then how does he look trying to score a hit song off of a cheap trick?
The idea of Ray J taking credit for Kim's success adds up like the math homework Wesley Snipes did to calculate his taxes. Kim became famous for numerous reasons, one of which was the sex tape that featured him. But if Kim was able to ride the sex tape to fame and fortune, why hasn't Ray J?
Like Jay-Z said on Young Jeezy's song "Put On,": "All these n**gas taking credit for the work that I put in / If you really put me on, put yourself on then."
The question is: Will Kim and Kanye answer Ray J's bird call either in song form or through a feisty rant? If they're smart, they'll turn the other cheek and leave this roach in the dark where he belongs.
Listen to Ray J's new song "I Hit It First" below
Be the first to receive breaking news alerts and more stories like this by subscribing to our mailing list.