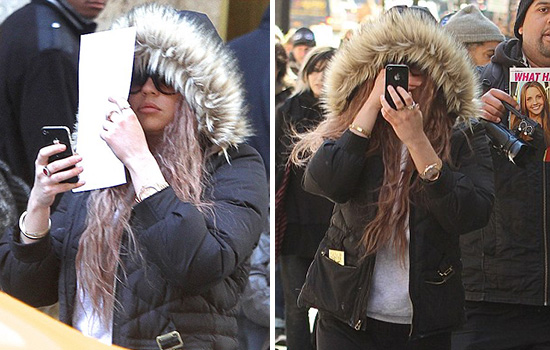 When we first met Amanda Bynes years ago, back in the 90's when she was that cute little kid on Nickelodeon, we would have never guessed that she would turn out to be the crazy person that she is today.
No one knows what went wrong with Amanda between then and now, but from the outside looking in, it looks like things started to go downhill for Ms. Bynes in 2010 after "Easy A" — which is the last time she's worked. She was due to reprise her role as Penny Pingleton in the "Hairspray" sequel, however the movie was canceled. Bynes was also set to star in the 2011 comedy Hall Pass, but dropped out and was replaced by Alexandra Daddario.
In June of 2010, Amanda began to exhibit strange behavior, announcing via Twitter that she planned to retire from acting, though a month later she had a change of heart and "unretired," also via Twitter.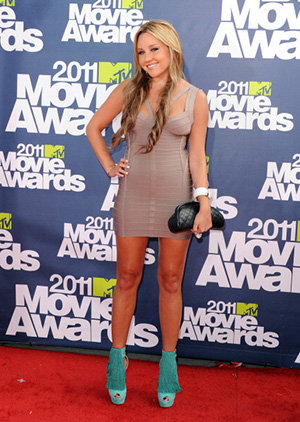 At the 2011 MTV Movie Awards, Bynes told reporters that she was merely taking time off from acting, and unbeknown to us all, that would end up being the last time the world would view Amanda Bynes as a sane, coherent person. It would take at least another year or so for the world to find out just how troubled she really is.
On March 7th 2012, Amanda was stopped by police in Los Angeles for talking on her cell phone while driving. Pretty normal stuff. But then about a month later, on April 6th — a year ago from yesterday — that's when the weird began to kick in.
During the early morning hours of April 6th 2012, Bynes was driving her black BMW through West Hollywood when she accidentally side-swiped a police car. She was arrested and charged with driving under the influence. At the time, her father spoke out on her behalf and denied that Bynes was drinking, saying, "She was not drunk. I was told that she blew a zero on the Breathalyzer. She didn't have a single drink that night. My daughter doesn't drink."
No, she doesn't drink. She just can't drive, and the DMV rightfully suspended her license on September 6th 2012 after she was was charged for two hit-and-run accidents — one from April 10th and the other on August 4th.
A little over a week later, her BMW was impounded after TMZ posted photos of her driving around smoking weed … something she probably shouldn't have doing, considering her license was suspended.
On September 21st 2012, Bynes was officially charged with driving with a suspended license, and later that month, she plead guilty to two hit-and-run charges. That case was settled in December 2012 and the charges were dismissed.
Bynes has since moved from Los Angeles to New York City, probably because living in Manhattan doesn't require much driving, which at least keeps her out of the legal system. But not being able to drive hasn't stopped Amanda from continuing to exhibit strange behavior and providing endless amounts of material for blogs very much like the one you're on right now.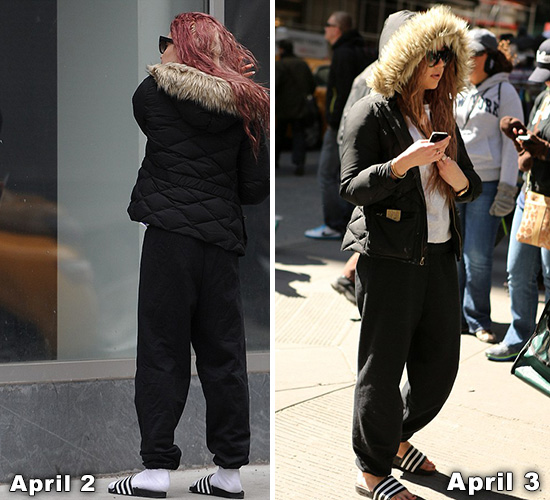 Amanda turned 27 years old last Wednesday (Apr 3), and was spotted in NYC looking and acting a hot mess.
Not only was she wearing the same outfit she was photographed wearing just the day before — sweatpants, a sweatshirt and sandals (this time with no socks) — but Bynes looked sad and lost, as if she didn't know what she was doing, where she was going, or even who she was. She also appeared to be all alone.
That night, in a series of tweets that she later deleted, Bynes denied being the woman in the photographs, and said that an imposter was pretending to be her. But we all know that's just the crazy talking.
"My hair is blonde, I've never been a redhead!" she wrote. "Somebody keeps posing as me! Check my photos on Twitter for up to date pictures!"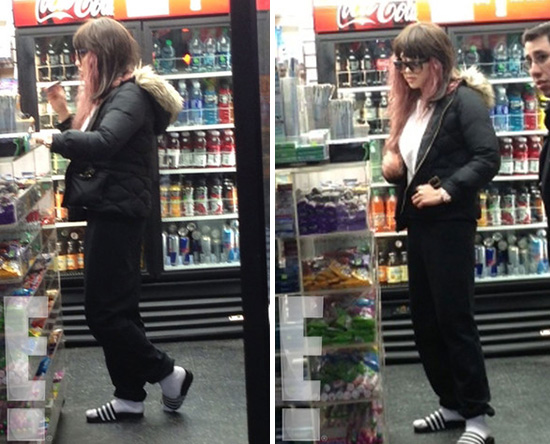 An eyewitness told E! News that earlier that same week, she saw a woman who looked very much like Amanda Bynes, cheek piercings and all, wandering through bodegas near Madison Square Garden looking "like a homeless person."
27-year-old eyewitness Danielle Berman says she looked up and spotted a red-haired "crazy-looking person" (Bynes) wearing a wig while shopping for pipes in a store.

"It was the weirdest thing I had ever seen," Berman tells E! News exclusively. "She had this shoulder-length mousy wig and then all the hair was hanging out underneath. It was bizarre. She looked like a homeless person…she looked a hot mess."

Bynes left the pipe store and then wandered into the street. "She was crossing into traffic, wasn't waiting for any of the lights to change and a cab almost hit her twice," Berman explained.

Berman, a fan of the cheek-pierced starlet, says it was unfortunate to see Bynes in that state.

"She looked like a bag lady," she said. "It's not a good area over there. Cops were looking at her like, 'Who is this person?'"

"I felt bad," Berman continued. "She is my age. I grew up watching The Amanda Show and I always thought she was the one that was going to turn out normal, and clearly she is not. It was really depressing to see her like that."
Amanda was scheduled to appear in court earlier that week to answer to the charges of her driving with a suspended license, but she was a no-show.
Her attorney asked the judge for an extension, which was granted, but the judge warned that this would be the last time the actress would be allowed to miss court, as this case has been dragging on since last October.
Bynes is now scheduled to appear in court on May 9th, with the pretrial set for May 2nd. Maybe she'll find the time to show up to this one. Or maybe she won't.
PREVIOUSLY: Amanda Bynes Claims to Have an Eating Disorder in Bizarre Twitter Rant
Be the first to receive breaking news alerts and more stories like this by subscribing to our mailing list.