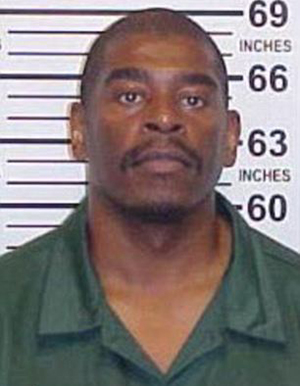 A man has finally been sentenced for a brutal crime he committed over 20 years ago.
According to the Associated Press, Philip Ward killed his six week pregnant girlfriend, Veronica Bowen, on a New York City rooftop in 1989. At the time, he and Bowen had two children together.
The 46-year-old, pleaded guilty to the crime last month and was sentenced to 18 years to life in prison on Friday (Apr 5).
Bowen's naked body was discovered on the roof of a Manhattan apartment building. Eerily enough her head had been cut off and it was never recovered.
So what took police so long to sentence this monster?
Investigators apparently did not have enough evidence to convict him until recently, when he confessed. According to Ward's lawyer Franklin Rothman, he decided it was time to own up to the crime so that he could build a better relationship with his children.
"I killed Veronica Bowen," Ward confessed in a New York prison.
Police now know that Ward and Bown were having severe domestic issues at the time of her death. The two, who met as teens while residing at a foster home, were raising their children together until she moved out of the apartment they both shared.
Bowen, 21, is believed to have been visiting her children on the night she was murdered. Ward purportedly believed that the child she was carrying belonged to another man.
Ward reportedly beat Bowen with a pipe and then stabbed her with a dagger. According to the prosecutor in the case, Bowen cried out "I'm sorry!" as she was being beaten by Ward; and in one heated final act of rage and aggression, he cut off her head with a knife.
He then scrubbed himself of evidence using the building's water tower and changed his clothing. He also removed the victim's clothing and trashed them.
Bowen was initially reported missing because her body was not discovered until 15 days after she was killed. Though Ward told investigators he buried her head in Riverside Park, they have yet to find it.
At Ward's sentencing, Bowen's sister said that the woman loved being a mother, adored her kids and was deeply in love with Ward, whom she trusted until the end.
"I am haunted by thoughts of what she must have felt in her last moments," Bowen's sister said to the judge. "I wish I could hug her again, talk to her, hear her voice and see her lovely face. She was my best friend. To die is one thing, but to die like that is the worst thing I can think of; it's inhuman."
All the more disturbing is that Ward is currently serving time for killing another woman, whom he started dating after he murdered Veronica Bowen.
Ward shot and killed girlfriend Sheila Jackson in 1994 and if that's not horrific enough, he committed the murder in front of Jackson's 11-year-old daughter and subsequently raped the little girl. It's unfathomable to imagine what that poor child has had to deal with in her now adult life.
It would be nice to believe that a horrific crime like this one isn't very common but unfortunately there have been a number of similar cases in recent years.
In 2008, a Greek man, 31, beheaded his 25-year-old girlfriend and her dog. The man then walked around with her severed head until he was apprehended by police.
In April 2011, a 23-year-old engineering student in India sliced off his 18-year-old girlfriend's head with a dagger in front of his classmates.
This past January, a Niger man was arrested for cutting off his girlfriend's head after he had sex with her. And just last month a 29-year-old Ghana man beheaded his estranged wife while in the midst of a love triangle.
Be the first to receive breaking news alerts and more stories like this by subscribing to our mailing list.