Beyonce and Jay-Z's fifth wedding anniversary was Thursday (Apr 4) and to celebrate the occasion, the happily married couple flew to Havana, Cuba where they were spotted being mobbed by fans as they walked around with their mothers Tina Knowles and Gloria Carter.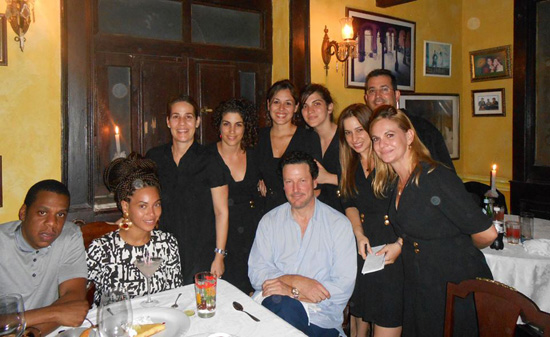 They all reportedly dined at La Guardia restaurant Wednesday night and posed inside the renowned restaurant with the restaurant staff. According to the Daily Mail, the crowds grew so thick that the police had to be called to calm the scene.
The famous couple's bodyguards' presence outside set the gritty, bustling neighbourhood of Centre Havana abuzz, and a crowd gathered downstairs shouting Beyonce's name until she went to a balcony and waved.

Waitress Silvia Fernandez said Beyonce toured the eatery and looked at photos of past celebrity clients including Jack Nicholson, Jodie Foster, Danny Glover, Will Smith and James Belushi.

"She was beautiful, without a drop of makeup, very natural," Fernandez said. "What happened with the people was incredible."
The next day, the couple and their moms toured Old Havana and enjoyed lunch on the rooftop terrace of another Cuban restaurant. Beyonce also posed for photos with local schoolchildren and had her handy DSLR camera with her to take lots of pictures she will eventually share on her Tumblr and Instagram.
This casual trip out of the country comes at a perfect time for Beyonce, who has a pretty busy month ahead of her with the release of her new song "Grown Woman" this Monday, April 8th, and the kick-off of her world tour the following week in Serbia on April 15th.
Be the first to receive breaking news alerts and more stories like this by subscribing to our mailing list.