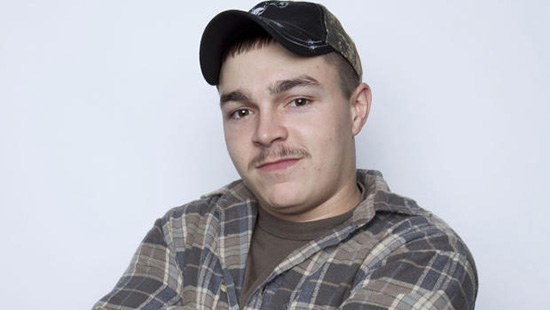 According to authorities in West Virginia, Shain Gandee — star of MTV's newest reality show "Buckwild" — died of carbon monoxide poisoning Monday (Apr 1), along with two other men, after the truck they were riding in became submerged in a muddy ditch.
Gandee, 21, and his uncle David Gandee, 48, and another passenger, identified as 27-year-old Donald Robert Myers, were found dead early Monday after Gandee's 1984 Ford Bronco had become stuck in a mud tole, with its tail pipe completely submerged, which apparently caused large amounts of carbon monoxide to fill the inside of vehicle.
Following an autopsy, the Kanawha County Sheriff's Department confirmed that the deaths of the three men had been ruled accidental, and no foul play was suspected, as all of the men died from the gas.
The statement from the Sheriff's Dept. read:
"The vehicle and bodies were found by one of Shain Gandee's friends who was searching the trails and ridges in the area for him and the others. The vehicle sat unevenly, but upright, and was partially submerged in deep mud. Mud was covering the lower part of the passenger side door of the vehicle, but the driver's side of the vehicle was above the mud. The muffler of the vehicle was completely below the surface of the mud.

"The Bronco was found next to a ridge-top trail. That section of the trail itself was passable for four-wheel drive vehicles. However, the Bronco was in a mud pit next to the trail. That area is accessed by following the wooded trails for approximately one mile from Shain Gandee's residence, near Thaxton Hollow in Sissonville."
The night before Shain, David and Donald's bodies were found, they had been reported missing. The men were last heard from at around 3 AM early Sunday morning, when they told people they planned on going "mudding" after leaving a bar.
A spokesman for MTV told the Associated Press that shooting for the second season of "Buckwild" had been suspended.
The network said Monday that it was "shocked and saddened" by Gandee's death, adding, "Shain had a magnetic personality, with a passion for life that touched everyone he met and we will miss him dearly."
The show, which was filmed last year around Sissonville and Charleston, West Virginia, followed the wild antics of a group of young friends enjoying their wild country lifestyle.
Last month, MTV said "Buckwild" was being watched by about 3 million viewers an episode, and was the most popular original cable series among 12-to-34-year-olds on Thursday nights.
The two production companies behind the show have offered to pay for all of Shain's funeral expenses.
A public service for Gandee will be held Sunday, according to TMZ, and the money donated through the websites setup before the producers offered to cover the funeral costs will go towards Shain's uncle David and his friend Donald.