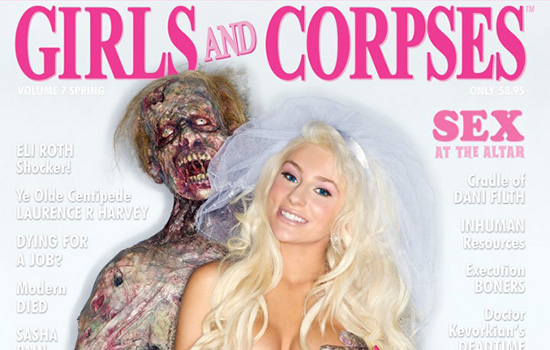 Just when you think Courtney Stodden has done it all, she goes and does some sick crap like this. The world's most famous teen bride slash professional attention whore in all the land graces the upcoming spring cover of … wait for it … "Girls and Corpses" — which is, put simply, a corpse fetish magazine.
On the cover, Stodden is completely nude (except for a wedding veil), and is being groped by a zombie. The magazine's website describes the whole thing like this:
"Catch the bouquet of our rotting VOLUME 7 SPRING issue of Girls and Corpses featuring 18 year old corpse bride COURTNEY STODDEN in the NUDE with her rotting groom Doug Graves."
Doug Graves, huh. OK. Clever. Still creepy as hell though.
Now, I'm sure you might be asking yourself, why on earth would someone pose for a sick, disturbing magazine like that?
Courtney explained to E! News, "Girls and Corpses is a silly, yet sexy magazine, which fits my personality perfectly. That's why I did it."
Asked what it was like posing with a corpse, Stodden told E! "It was definitely interesting, of corpse…hehe."
I honestly couldn't make this shit up if I tried…
Be the first to receive breaking news alerts and more stories like this by subscribing to our mailing list.