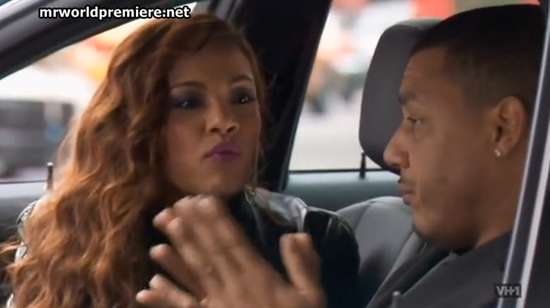 If Rich Dollaz and Erica Mena actually traded blows, they'd be the new Ike and Tina Turner. Or rather, the older version of Chris Brown and Rihanna.
Their toxic romance has been making a hot mess all over Rich's personal and professional life and in one last attempt to settle the score once and for all, Rich inadvertently kicks off a real-life reenactment of a Jerry Springer show.
At Erica's lipstick event, Rich decides to confront Erica about her two-timing ways with women behind his back. He point blank asks Erica several times if she's been sleeping with women.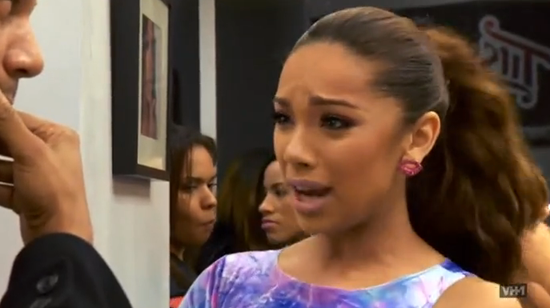 Erica makes a screwface and tells him not to believe all that he-say, she-say stuff. This bitch sure can lie.
But Rich has a trump card and he knows it. So he drops the one-word bomb that makes Erica's face look like the atom bomb just dropped: Tiffany. That's when he calls the live bait herself over so that the three of them can have a conversation.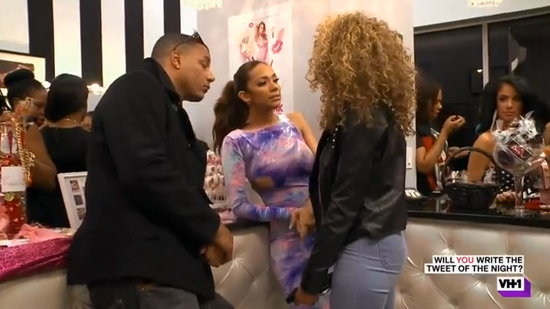 Unfortunately, the conversation didn't last very long before Erica Mena went buckwild on Tiffany and started swinging on ol' girl with the poodle hair. Before you could say, "Calma-te, puta!" Erica popped that bitch square in the mouth. But Ms. Tiffany did grab a hold of Erica's ponytail at least.
Because VH1 is trying to tamp down on promoting violence in its reality shows, much of the fight was edited out, but that scuffle was mad real. Poor Tiffany was curled up in her SUV hollering out for the savior. Erica Mena ain't nobody to play with. You could throw her wild ass into a swamp full of crocodiles and she'd have them running out of the water to get away from her rabid ass before makes a purse out of them with her Bugs Bunny teeth.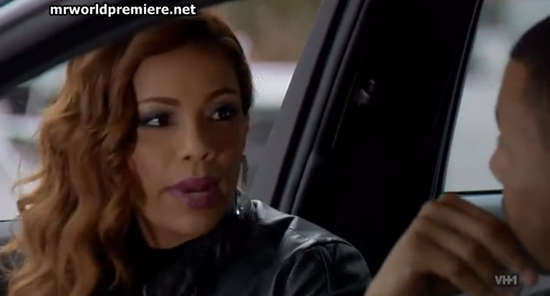 After Tiffany collects the broken pieces of her face off of the floor, Erica and Rich meet up at a later date to try to make sense of what went down. Erica is defensive as usual, but Rich comes with that real deal Holyfield and knocks Erica's spirit out by laying it all on the line.
In one of the most passionate speeches of dedication and love, Rich runs through all of the ways that he sacrificed and went to bat for Erica, including putting his relationship with his artist and friend Olivia on the line. Get this: He said it was all worth it because he was willing to ride for Erica.
By the time Rich was done, Erica the Grinch's heart was melting and she actually started to feel the tiny pricks of her conscience. Overwhelmed with emotion, she bolted from the car without saying a word. Rich, feeling sorry for her, followed her and held Erica in his arms as she sobbed.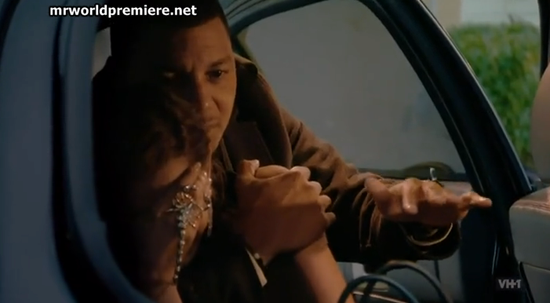 He finished off by saying, "You know what's crazy? All the f*cking bullshit aside, I'm your best f*cking friend."
Rich walked off, but with that statement, we know he's nowhere near done with Erica for good.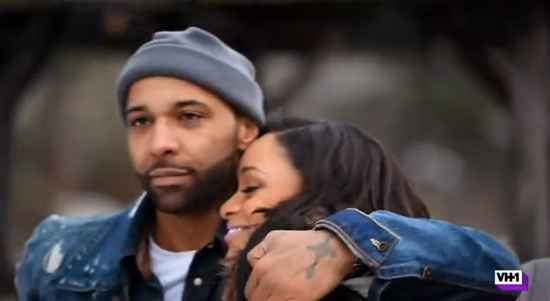 Joe and Tahiry Found Love in a Hopeless Place
It could all be so simple. But Joe and Tahiry would rather make it hard.
After playing hard to get all season, the star-crossed exes finally decide to give love another try. But first, Joe has to take out the trash. Namely, his useless girlfriend Kaylin who's been waiting at home for Joe while he was out in the Dominican Republic with his ex.
When Joe returns, he tries his best to be diplomatic about it but in the end he's bluntly honest: It's over. Kaylin acts surprised but if her dumbass thought for a split second about how hung Joe has been on his ex Tahiry, she'd know that she never had a chance. At best, she was nothing more than a bed warmer. At the very least, Kaylin can be thankful to Joe for getting her off the streets for a little while, since she was homeless.
Once Joe cleans up his mess, he sets his focus back on Tahiry. He invites the Dominican mami with the centaur booty out for coffee. But hold up, this ain't no Starbucks trip. Joe's planned an exotic winter getaway for he and his boo. Surprise!
When they get to the lodge, Joe takes the first opportunity he can to cuddel and snuggle with his boo thang. The sexual tension is so thick you could spread it with a butter knife. But Tahiry holds her ground and doesn't give him the goodies just yet.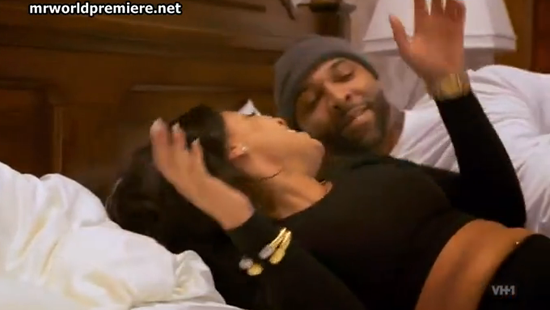 Instead, the two lovebirds spend the whole time playfighting and staring into each others eyes. Or at least that's what they showed on camera. Lord knows once the lights went out that that room was like an episode of BET Uncut.
For all of the ups and downs between Joe and Tahiry, you can't help but root for them. They're love is dysfunctional but it's definitely real. And isn't genuine love worth it, flaws and all?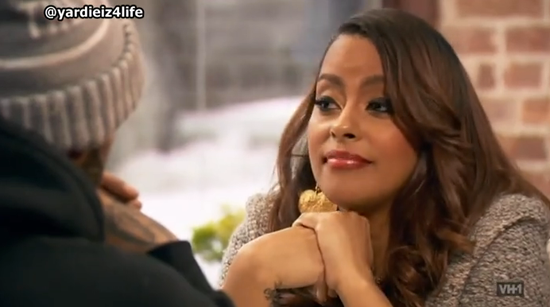 The Rest of the Rat Pack Left Out to Dry
After playing a pivotal role in the first few episodes, Raqi has really fallen to the wayside and she's felt the effects of her estrangement. She sits down with Joe to discuss her attempt at an apology with Tahiry and she tearfully admits that losing him as a friend has wounded her deeply. In the end, Joe was one of the few people Raqi could call friend and she burned that bridge.
Joe, who happens to be in a benevolent mood this episode, tells Raqi that he knows she's hurt and angry, but he wishes the best for her. "If she really needs me," he admits, "I'm only a text away."
Raqi later is seen doing yoga or some shit talking about she's finding her spiritual foundation and doing namaste poses. WTF? Wasn't she Ms. Islam in the earlier episodes? Raqi doesn't who or what she wants to be.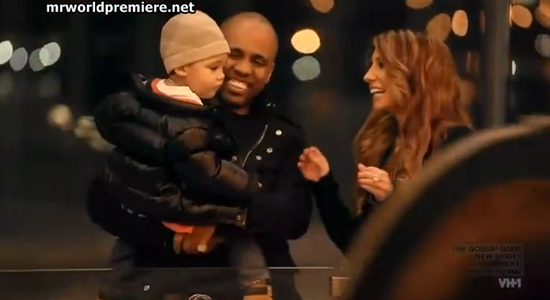 Consequence and Jen seem to have sorted out their issues as they take their son to the fair. Consequence and his megachompers reminisce on the trials and tribulations of their marriage. Truth be told, Cons and Jen's storyline dried up like the Sahara after the Raqi blowout and their whole finale was a non-motha-effing-factor. But hey, good luck to them both and Godspeed to Consequence's dentist.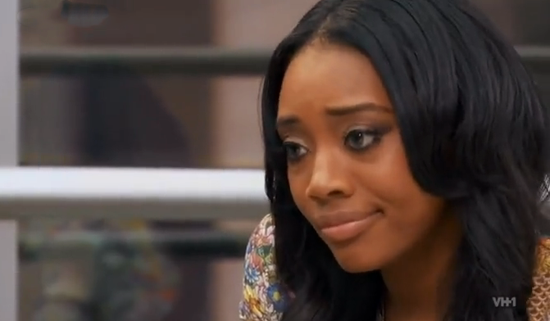 With Mendeecees locked up like his name was Lindsay Lohan, Yandy is left out in the wilderness to raise her baby Omere alone. In order to drum up more sympathy for herself, Yandy meets with friends, co-workers and even LHHNY producer and creator Mona Scott-Young. Ms. Mona tries her best to act like Oprah but her faux counseling demeanor is more comedic than inspirational. Get into that brown-on-brown lipstick and lipliner combo though. Who's bad?
Later in the episode, Yandy complains that Mendeecees is locked up and she has no idea and for how long. Girl, have you not heard of Google? Cause the newspapers and blogs been known that Mendeecees was facing drug and child molestation charges. She just wanted to plead ignorance so she wouldn't have to discuss it on the show in front of the world.
Sadly, Mona and co. failed to wrap up Winter Ramos' story and Rashidah was just shoe-horned in as a special guest for Tahiry's section. If VH1 can't be bothered to develop these characters, then they should cut down on the number of castmates. Winter and Rashidah felt more like guest stars than full-fledged castmates. They didn't add anything to the storyline and no one would've blinked if they were gone.
Speaking of nobody blinking when she's gone, VH1's closing shot of Joe's ex-girlfriend Kaylin walking down the street by herself looking lost and distraught was priceless.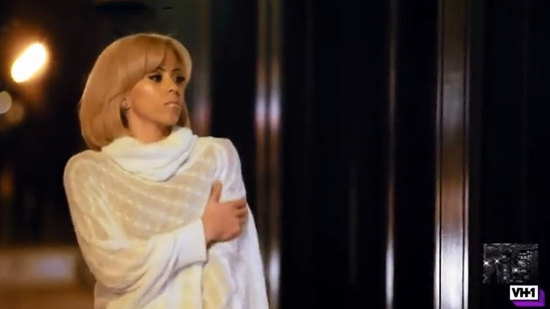 Don't feel too bad: All's fair in love and hip hop, remember?
Be the first to receive breaking news alerts and more stories like this by subscribing to our mailing list.