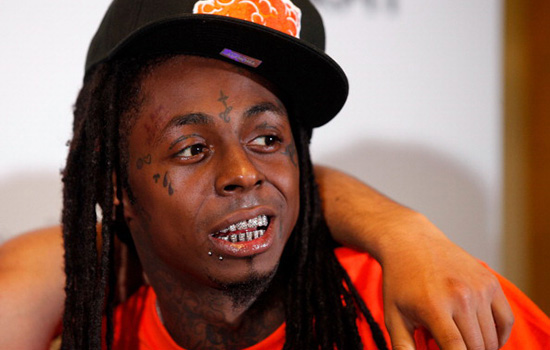 Lil Wayne called into Power 106 L.A last week with DJ Felli Fell to talk about a number of topics, including his new album 'I Am Not A Human Being II,' how he feels about MTV's Hottest MC's list, and the number one topic he couldn't stray away from … his health!
During the interview Wayne reveals he an epileptic, which makes him prone to having seizures.
"The bad news is I'm an epileptic. I'm prone to seizures. This isn't my first, second, third, fourth, fifth, sixth, seventh seizure. I've had a bunch of seizures, ya'll just never hear about them. But this time it got real bad 'cause I had three of them in a row and on the third one, my heart rate went down to like 30 percent. Basically, I could've died, so that is why it was so serious."
Wayne revealed the reason for him being hospitalized, chalking it up to being stressed and overworked:
"But the reason being for the seizures is just plain stress, no rest, overworking myself. That's just typical me though."
He further explained how he has seizures all the time, and how his team is prepared to handle them:
"I have people around me. I actually have [the seizures] so much they already know what to do. They already know how to handle it. Certain times I don't even go to the hospital, but this time, it was real bad because it was three in a row, and I've never had three back to back like that.

"The third one was so bad and I live in the hills in L.A. So the reason why it was bad was that I live all the way at the top, so you know how hard it is getting down those hills. That was what was so scary about it."
Weezy also spoke on how he felt about the TMZ reports that claimed he was on his death bed:
"That's what they do. I can't be upset at that. I get upset at my kids when they do things that I tell them not to do. I can't be upset at TMZ for doing what they do. They gon' probably come out tomorrow and say something else about somebody else that ain't true. That's what they do. The truth isn't good enough for them, so they gotta twist everything up."
And he also shared his thoughts about how he felt about not making MTV's Hottest MC's List:
"I didn't even check the top 10 list, but I'm glad I didn't make it neither… I probably pissed some people off at MTV or something."
Weezy wrapped up the 16 minute interview touching briefly on his past comments about Chris Bosh's wife and the Miami Heat, letting us know he probably did say a little bit too much, but he wouldn't take back anything he said. That's just not what he does. Weezy just isn't the apologetic type. Clearly.
He also left off telling us his favorite track on the album is "Trippy Kit," and how he enjoyed working with Juicy J.
It's good to hear Weezy in good spirits, making jokes, and opening up about his health condition. We wish Weezy well, and let's hope he can stay out of the hospital.
Lil Wayne's "I Am Not A Human Being II" album is in stores now.
LISTEN TO WAYNE'S FULL INTERVIEW WITH POWER 106 BELOW:
Be the first to receive breaking news alerts and more stories like this by subscribing to our mailing list.