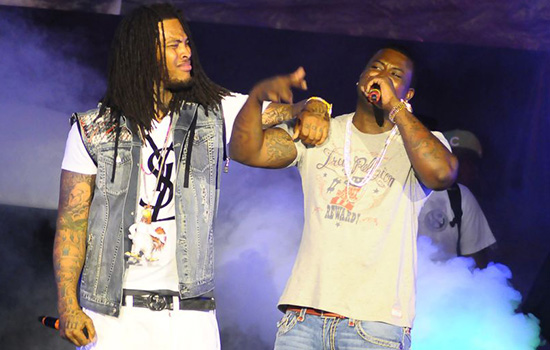 Waka Flocka Flame made an appearance on MTV's RapFix yesterday to talk to host Sway about his beef with Gucci Mane. Ever since the so-called "beef" (which is really one-sided, on Gucci Mane's end) was made public, many have questioned the legitimacy of it … but Waka says that their situation is ALL real.
The world first learned of the rift between Gucci Mane and Waka Flocka via Twitter a couple of weeks back when Gucci tweeted: "Waka flacka flames officially dropped off brick squad 1017…"
However, according to Waka, Gucci doesn't have the authority or legal rights to "drop" him from the label, seeing as Waka owns a percentage of it. "You can't kick the boss out, its impossible," he noted.
After the tweet made its rounds all over the Internet, Gucci's camp released a statement saying the rapper's Twitter account had been hacked. But no one believed that, including Waka, who said that prior to Gucci's tweet, the two had gotten into an argument in which aggressive words were exchanged — "Real aggressive words like, 'N**ga let's get up, let's do this'"
Waka said he doesn't know where any of this is coming from, and the only thing he can think of is Gucci might be jealous of him for some reason.
"I don't know. Honest to God truth, I don't know because I'm the loyalist person you could ever see. I took on a man's beef, risked my life, hung out the window, risked my freedom. I never backed in a corner," he said, in reference to his involvement in Gucci's beef with Young Jeezy. "To my knowledge, it can't be nothing but jealously or something because there is nothing I did disloyal."
Waka made it clear that he can be civil with Gucci, they can party, hang out, etc … but never in life will he do music or business with Gucci again. Ever.
"It ain't gonna never be no business, ever in life. No music or nothing," he said, with a lot of seriousness in his voice. "I don't feel nothing he say out his mouth. It ain't real."
Gucci and Waka have had their disagreements in the past, but it sounds like Waka is really serious about parting ways this time around.
Be the first to receive breaking news alerts and more stories like this by subscribing to our mailing list.