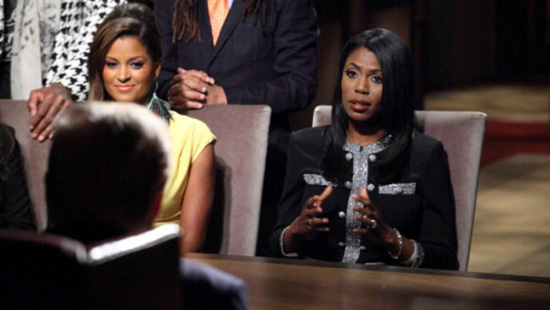 If there's a reality show with Omarosa on it, it's pretty much a guarantee that she'll scrap with 50 percent of the cast. Her former friend Claudia Jordan unfortunately fell on the wrong side of that 50 percent during the latest season of "Celebrity Apprentice."
The two women, who apparently used to be friends, clashed on the show when Claudia felt that Omarosa stabbed her in the back. Claudia was fired from the show on the latest episode and she didn't take Omarosa to the board room with her like Donald Trump expected her to.
During an appearance on the Wendy Williams Show, Claudia explained that she didn't bring Omarosa because she didn't want to give Omarosa "her moment."
"That's where she shines," Jordan admitted.
Wendy brought up a picture that Claudia tweeted during Omarosa's late fiance Michael Clarke Duncan's funeral. This is significant because Omarosa had stated that she didn't want any guests to tweet photos of the funeral out of respect for Michael. Wendy says that this photo is the reason why Omarosa is miffed with Claudia but Claudia calls BS on Omarosa's claim.
For starters, she had a red carpet and did press at Michael's funeral. So privacy clearly wasn't her main concern, Claudia says. Good point.
Watch Claudia take Omarosa down a few pegs on Wendy's show below:
Be the first to receive breaking news alerts and more stories like this by subscribing to our mailing list.