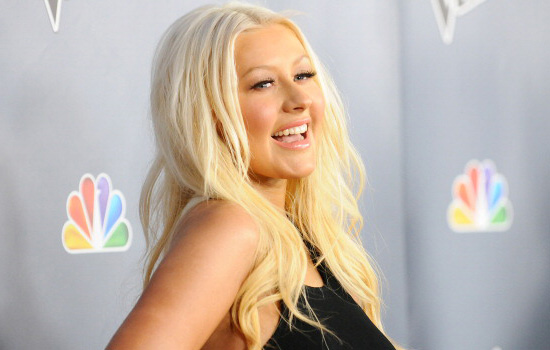 For the few faithful Christina Aguilera fans who were still holding out hope that she'd try to at least push ONE more single from her stalled, stale project 'Lotus' … sorry. It ain't gonna happen.
The former Mouseketeer took the red carpet for the premiere of the fourth season of the reality singing competition "The Voice, which she was a judge on for the past three seasons.
She announced that she was stepping away from the show to tour and create music so it's kind of odd that she was there for the premiere, but whatever.
While on the red carpet, a reporter asked Christina about her new single "Let There Be Love" (it was apparently news to Xtina as she whipped her head around like 'According to who?!') and if she would continue further promotion of her 'Lotus' album, which was released late last year to mediocre reviews and lukewarm sales.
"Right now I took this time to do everything that feels amazing and peaceful. I've been on the show three seasons since it started and… in increments, I need moments to step away from the camera and I have selected performances here and there but this is sort of a downtime for me right now," Christina said.
In other words, "Nope."
WATCH THE INTERVIEW HERE:
The good news is that it sounds like Xtina is eager to create and if I'm reading correctly between the lines, 'Lotus' probably didn't turn out the way she wanted and she's deciding it best to let go of all of the baggage that comes with a flop album instead of trying to resuscitate a project that's clearly dead.
Unfortunately for Christina, 'Lotus' is failure number two for her as the album before that, 'Bionic,' also stunk up the charts.
The success of her collaborations with Pitbull and Maroon 5 prove that not all hope is lost, but she needs to figure out what lane her solo music works best in and give up trying to recreate the potpourri approach to making an album that worked for her once with 'Stripped.'
Be the first to receive breaking news alerts and more stories like this by subscribing to our mailing list.