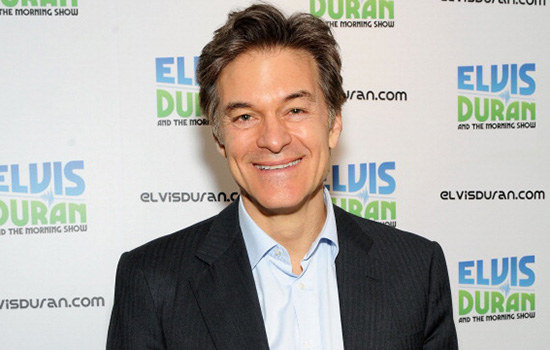 A New Jersey man has filed a lawsuit against the "Dr. Oz Show" after he tried an insomnia remedy that was promoted on the show that left him with third-degree burns on his feet.
According to the NY Daily News, New Jersey resident Frank Dietl was watching an episode of Dr. Oz last April that suggested that viewers who can't fall asleep at night warm their socks in the microwave with rice inside to help them doze off.
But Dietl, who suffers from diabetes, claims that he was bedridden for weeks after using the bizarre "knapsack heated rice footsie" insomnia treatment.
"He wound up with third-degree burns on his feet and was confined to his bed for weeks," Dietl's attorney, Dominick Gullo, told the Daily News on Monday.

During an April 17, 2012 episode of "The Dr. Oz Show," the popular cardiothoracic surgeon touted a segment dubbed "Dr. Oz's 24-Hour Energy Boost."

Oz encouraged viewers to fill the toes of a pair of socks with uncooked rice, warm up the footwear in a microwave oven and slip them on.

"You do this and lie for about 20 minutes with those socks on in bed. The heat will divert blood to your feet," Oz explained on the show.

"When your feet get hot, guess what happens to your body? It gets cold. Your body will automatically adjust its core temperature and as it gets cooler, you're going to be able to sleep better because your body has to be cold in order to get sleepy," he said.
Dr. Oz warned viewers not to let the socks get too hot, and capped off his segment with this: "If you do this the right way, you'll be thanking me for years to come."
But what Oz didn't address, Dietl's lawsuit claims, is that people suffering from severe health conditions like diabetes — which causes Dietl to have "neuropathy," or numbness in his feet — shouldn't try the "insomnia cure."
"There were no proper instructions or proper warnings," Dietl's lawyer said. "There were no warnings to anybody with neuropathy to not try it."
It's uncertain how long Dietl left the socks in the microwave, or on his feet, but he told his lawyer he didn't know how hot they were until he got up in the middle of the night and tried to walk.
Producers for "The Dr. Oz Show" said they couldn't comment on the lawsuit until they reviewed the details.
Be the first to receive breaking news alerts and more stories like this by subscribing to our mailing list.