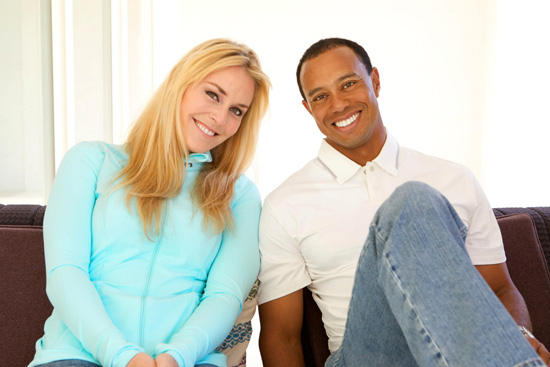 Tiger Woods took to Facebook on Monday to tell the world information that they could give two shits about. The golf-playing slut publicly declared that he's in a new relationship with skier Lindsey Vonn via his official page, writing:
"Something nice that's happened off the course was meeting Lindsey Vonn. Lindsey and I have been friends for some time, but over the last few months we have become very close and are now dating. We thank you for your support and for respecting our privacy. We want to continue our relationship, privately, as an ordinary couple and continue to compete as athletes."
The news came as a relief to those who have been up all night pondering the details of Wood's personal life … which is pretty much no one.
Remember that time Tiger was caught cheating on his wife and the mother of his children with countless women? Hopefully, Vonn does too, and knows that when he starts texting a lot and going out without an explanation that she needs to pack her bags.
Funnily enough, she's pretty much a dead ringer for his ex-wife Elin Nordegren. Ol' Tiger definitely has a "type."
Of course a super huge announcement like this must come with a set of awkward-looking highly staged photos right?
Yes! And here they are:
Such a lovely couple. 🙂
Be the first to receive breaking news alerts and more stories like this by subscribing to our mailing list.