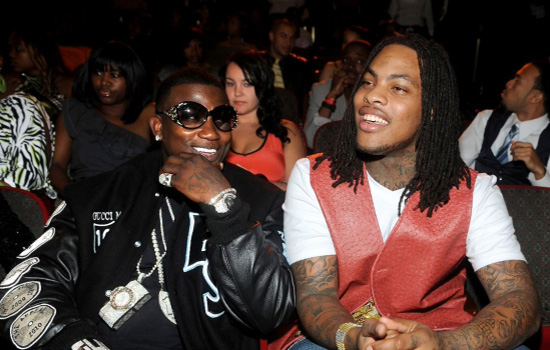 A few days ago Gucci Mane took to Twitter to let the world know that his rap protege Waka Flocka Flame was no longer a part of his 1017 Brick Squad label. His exact tweet was: "Wacka Flocka Flames officially dropped off brick squad 1017. Big Gwop say give me a offer for this disloyal lil nigga."
Waka flacka flames officially dropped off brick squad 1017.Big Guwop say give me a offer fa this disloyal lil nigga

— Gucci Mane (@gucci1017) March 16, 2013
But now, a rep from Gucci's label is saying that the Atlanta rapper's Twitter was hacked, yet the tweet remains on his timeline, and Gucci has yet to clear the air and apologize for the tweet.
"Gucci's Twitter was hacked," the rep, Rahim tweeted, according to Miss Info. "Just spoke with his manager. All kinds of crazy DMs and what not."
Everyone knows just how crazy Gucci can be, so to avoid any further industry beef surrounding the rapper, it is very possible that Gucci's people are trying to downplay his tweets by claiming that his Twitter was "hacked."
Nice try, but we're no fools. We know better. Anyone — whether you're a celebrity, public figure, or just a regular person — whose Twitter was really hacked would immediately delete the offending tweet(s). Gucci's reps probably advised him to delete the tweet, but of course he more than likely refused because he meant what he said.
Waka, who doesn't seem to be taking this "beef" too seriously as he joked about Gucci on Twitter, did make it clear that he and Gucci's situation is indeed real, with him tweeting stuff like this following:
Dont let da media fool u. This shit real Shawty

— Waka Flocka Flame (@WakaFlockaBSM) March 17, 2013
twitter jaill

— Waka Flocka Flame (@WakaFlockaBSM) March 17, 2013
— Waka Flocka Flame (@WakaFlockaBSM) March 17, 2013
For those of us who are familiar with Gucci Mane and Waka Flocka's dysfunctional relationship, none of this really should really be surprising, as Gucci and Waka are known for being cool one minute, and then not so cool the next.
Back in 2010 when Gucci officially cut ties with Waka's mother Deb Antney's management group Mizay Entertainment, Waka explained his relationship with Gucci at the time as "non-existent." Of course they eventually made up as if nothing ever happened, but now it looks like they're back to beefing again.
We'll see just how long it will take for these two to patch up whatever might be wrong between them.
Be the first to receive breaking news alerts and more stories like this by subscribing to our mailing list.