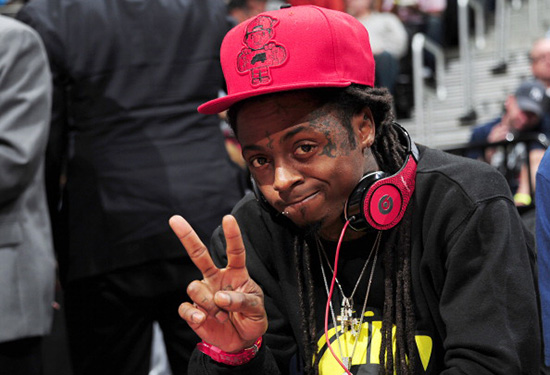 After spending nearly a week in the ICU, everybody's favorite rapper Lil Wayne is out of the hospital and on his way back home.
Lil Wayne's rap associate Mack Maine — president of Wayne's Young Money record label — tweeted on Monday (Mar 18) that the four-time Grammy Award winner had left Cedars-Sinai hospital in Los Angeles, where he had reportedly been hospitalized in the intensive care unit in what TMZ described as "critical condition" since last week.
Thanks to Cedar Sinai for everything!!! @liltunechi has been officially been released and is headed home….God is great ?

— Mack Maine (@mackmaine) March 19, 2013
Lil Wayne's camp has been been very mute about why the rapper has been in the hospital for so long, but TMZ appeared to have some inside sources that were filling them in on all of the details of the situation.
On Friday night (Mar 15), the infamous (but highly credible) celebrity gossip site published a story basically saying that Weezy had been put in a medically-induced coma and was preparing to die, and even if that were the case, private information about a patient at a hospital — regardless of their celebrity status — should never be disclosed to the general public.
After the story broke and started trending on Twitter and making headlines all over, TMZ removed the portion of their story suggesting that Weezy was being "prepared for his last rites with his family at his bedside saying their last goodbyes."
Young Money publicist Sarah Cunningham acknowledged Friday that Lil Wayne had had a seizure, but members of his camp have shot down reports that the rap superstar was near death.
The rapper's camp also denied TMZ's reports that his seizures were triggered by a codeine (sizzurp) overdose, instead attributing them to him being overworked and not getting enough rest.
"He's doing much, much better and he's in good shape right now," Birdman told Hot 97's Angie Martinez on Monday, prior to reports at the time that the rapper was up and walking on his own with his bodyguards on the hospital floor.
God Bless.my son just release frm hospital.thanks 4 all tha luv.YMCMB.Richgang

— BIRDMAN (@BIRDMAN5STAR) March 19, 2013
Meanwhile, sources connected with Lil Wayne tell TMZ that he is feeling weak, but he's a lot better and plans on laying low until he fully recovers.
Get well soon Weezy!
Be the first to receive breaking news alerts and more stories like this by subscribing to our mailing list.