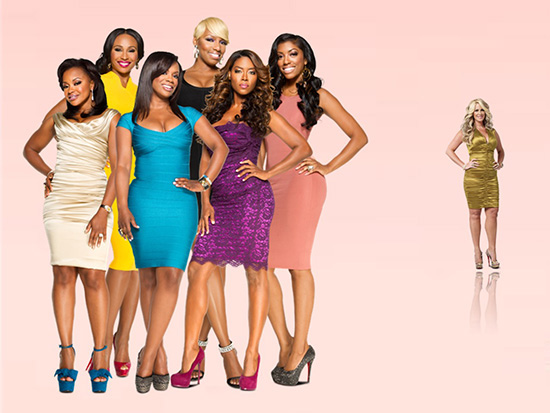 Straight from the A, the blog with the inside scoop on everything Atlanta, has rounded up its sources and dished the dirt on what went down during the taping of Bravo's "Real Housewives of Atlanta" reunion.
Here's a breakdown of what you can expect from the upcoming reunion show.
1. Kim Zolciak Ends Up Being a Non-Factor
As you'll recall, Kim Zolciak made her exit from the RHOA franchise for good this season after the girls complained about her backing out on yet ANOTHER trip with them. So you'd think that her return for the RHOA reunion would generate some heat and discussion, but nope. According to SFTA, the girls largely ignored her. There were shots traded between her and NeNe, which is typical, but nothing more.
2. Phaedra Blows the Lid on Kenya's Fake Ass
Miss USA loves to show off all of the scandalous photos from her booty model days, but she's not so forthcoming about how her bubble butt got to be as big as it is. Allegedly, Phaedra Parks comes armed with proof of Kenya's fraudulent ass. Apparently, she went to Mexico to get it done and she didn't follow doctor's orders and slept on her side instead of her stomach, which resulted in her getting dents in her fake butt. How unfortunate.
3. Kordell Might Not Let Porsha Come Back
The whole "Kordell is a dictator" storyline might've rubbed Kordell the wrong way because SFTA thinks that Porsha will be tapping out after one season. She supposedly thanked her glam squad for helping her make it "to the end." In all fairness, "the end" could simply be referring to this season, but it's also plausible that Kordell would rather live his life away from the cameras. Especially since SFTA thinks that Kordell didn't show up for the reunion.
4. Kandi and Kim Weren't Allowed to Talk About the Lawsuit
Kandi recently waged war with Kim by filing a formal lawsuit against Zolciak for illegally licensing the song "Tardy for the Party." Bravo, who has been using the song to promote Kim's show, reportedly told the ladies not to bring it up so they didn't. That's good news for Kim since she was looking to get away from these chicks' drama anyway.
There are about three more episodes left in season 5 of RHOA, so fans will have to wait about a month to catch all of this hot mess on TV. In the meantime, check out all of the spoilers from our peeps over at Straight from the A!
Be the first to receive breaking news alerts and more stories like this by subscribing to our mailing list.