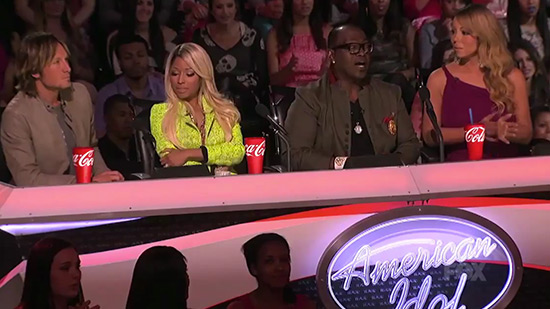 Ever since the start of "American Idol" Season 12, we've all gotten a clear sense of who the real "diva" is between Nicki Minaj and Mariah Carey. Hands down, Nicki Minaj is owning that isht, and she doesn't even care who knows it.
During Thursday night's "Idol" taping, Nicki threatened to walk off the set when one of her favorite contestants — Curtis Finch Jr. — landed in the bottom two, along with Devin Velez.
Clearly not agreeing with America's decision, Nicki said, "I definitely think Curtis should not be in the bottom two. I mean, I love Devin but I think that Curtis, if you look at every one of his performances, I mean – come on, America, are you kidding me?"
"Curtis, I mean, if you go home, I go home," she added before the show went to commercial break.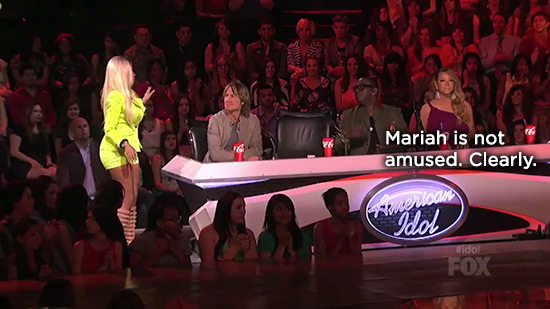 When the show came back, and host Ryan Seacrest announced that Finch got the lowest amount of votes, and would have to sing for survival, Nicki dramatically got out of her seat and started to walk off, but after taking a few steps, she quickly returned to the panel.
WATCH BELOW:
A touching sentiment on Nicki's behalf. Too bad she actually missed Curtis' "I Believe I Can Fly" performance the night before because she was late to the show, so in the opinion of most, she doesn't have much room for an argument.
In the end, the judges chose not to save Finch — something they can only do one time during the entire season — and of course, Nicki wasn't happy about it one bit.
"I think we really needed an extra minute to discuss it, I don't feel like there was a real discussion about it but I know that it's a live show," she said. "I know it's a live show, but…"
After all was said and done, Curtis left, and Nicki stayed, just as she should.
Who walks away from a (rumored) $12 million salary, anyway? No one. That's who.
Be the first to receive breaking news alerts and more stories like this by subscribing to our mailing list.