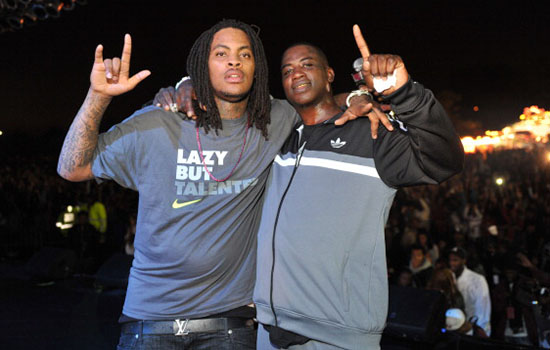 Last night, Gucci Mane took to Twitter to let everyone know that Waka Flocka Flame has been officially dropped from Brick Squad 1017.
Despite their longtime friendship, Gucci called Waka Flocka "a disloyal lil nigga," tweeting:
Waka flacka flames officially dropped off brick squad 1017.Big Guwop say give me a offer fa this disloyal lil nigga

— Gucci Mane (@gucci1017) March 16, 2013
And of course Flocka — who, at the time, was in Austin, TX performing at SXSW — responded, tweeting, "Somebody tell Gucci Mane 2 Suck a dick," which he quickly deleted and replaced with this:
Can't tweet beef #HucciKnowHowIrOck

— Waka Flocka Flame (@WakaFlockaBSM) March 16, 2013
There is no word yet on what started their beef, but no doubt things look pretty ugly right now!
Be the first to receive breaking news alerts and more stories like this by subscribing to our mailing list.