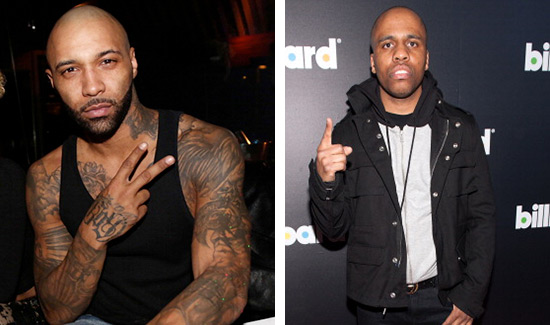 Forget about the ladies of "Love & Hip Hop." The guys are the ones bringing all the drama for this season's reunion special.
First, Consequence got his licks in at the reunion show, but later that night, Joe Budden sent his goons to put hands on Consequence.
The rapper, who was responsible for helping Kanye West write his raps from early on in his career, was out with his baby mama Jen the Pen when some anonymous thugs pounced on him.
Jen began hollering and screaming for help, because that's what white bitches do in moments of distress, but her cries couldn't stop the blows.
Thankfully, a passerby caught the incident on video with his phone.
Joe Budden was quick to rub salt in Cons' wound on Twitter:
Hope son ight, I was headed home & seen dude talking to police while Jen was crying.. #QueensAllDay tho

— Joe Budden (@JoeBudden) March 13, 2013
And Cons fired back that the drive-by jumping ain't even hurt that much.
@joebudden Y'all hit like bitches #straightlikethat Actually Tahiry hit me harder nigga. I told the Police that I don't press charges.

— Consequence (@ItsTheCons) March 13, 2013
Yo. These two never even had a scene together in "Love & Hip Hop." Why the hell are they beefing so hard?
Be the first to receive breaking news alerts and more stories like this by subscribing to our mailing list.