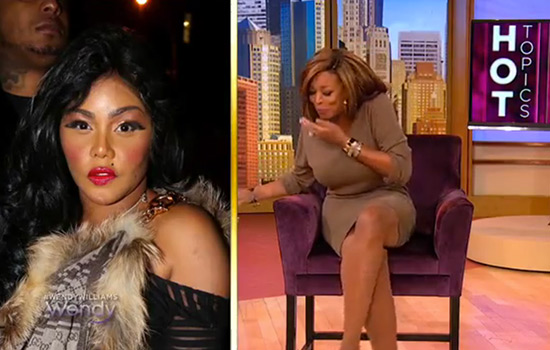 Here we go again: Lil' Kim has got beef with another woman. Only this time, it isn't Faith Evans, Nicki Minaj or Biggie's mom, but instead, daytime talk show host and former radio star Wendy Williams.
If you'll recall, a recent round of unflattering photos made their way around the web and Kim bizarrely accused the paparazzi of manipulating the photos to make her look bad. When Wendy ran a segment on her show criticizing Kim's tortured face, Kim caught wind of it and took offense.
Wendy dishes on @lilkim's dramatic new look & reveals who she wants to fill @joyvbehar's shoes on @theviewtv. VIDEO: wendyshow.com/hot-topics/

— Wendy Williams (@WendyWilliams) March 12, 2013
"She's just been getting stuff it looks like done, done, done, filled, filled, filled. It's filled so tight now, Kim, it looks like a pin could just pop ya!" the talk show host exclaimed during her segment.
Honestly? That was mild. Old Wendy would've went IN on Lil' Kim's patchwork quilt mug. So really, she got off way easy. Besides, Wendy actually kind of defended her.
But Kim didn't see any of that. She just saw red. The "Crush On You" rapper dropped bombs on Wendy through Twitter and accused the talk show host of being jealous because she sucked Biggie's dick and he supposedly dissed her afterward.
Why does everything in this bitch's life, good or bad, all lead back to Biggie? She needs to let that man RIP.
Here's Kim's war of words against Wendy on Twitter:
@wendywilliams Bitch Y didn't U show the side by side pic. This pic is photoshopped & U know it. U hating Bitch say.ly/LwT5kpl

— Lil' Kim (@LilKim) March 12, 2013
@wendywilliams A bad angle will never make me look like that.

— Lil' Kim (@LilKim) March 12, 2013
@wendywilliams Stop hating on me because U sucked Big's dick & he didn't want nothing to do with yo ass after that.

— Lil' Kim (@LilKim) March 12, 2013
@wendywilliams It's time for the world to know the real. I'm not playing with yo ass no more. Let's Get it!!!!

— Lil' Kim (@LilKim) March 12, 2013
Wendy will likely respond on her show, but you know she is cracking up at this foolish scarecrow swinging windmills at her on Twitter. Kim is totally fighting the wrong battles.
She needs to be focused on plotting a path back to the Billboard charts instead of all this bullshit. She's the one who opted for that wretched face so why is she mad at the world about it now?
Be the first to receive breaking news alerts and more stories like this by subscribing to our mailing list.