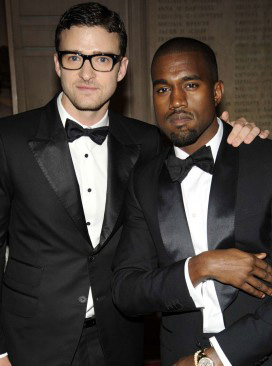 Last week on SNL, Justin Timberlake performed his single "Suite & Tie" with Jay-Z and subliminally dissed rapper Kanye West when he changed one of the lines in the song from "shit so sick, got a hit and picked up a habit" to "my shit so sick got rappers acting dramatic."
Many thought this was a subliminal diss geared to towards Kanye, who said publicly during a performance in London "I got love for Hov, but I ain't fuckin' with that Suite and Tie."
During Timberlake's appearance on "Late Night with Jimmy Fallon" the other night, he was asked about that subliminal jab and denied it being tied to anything about Kanye.
"Did it seem that way?" Timberlake asked, seeming surprised. "I don't believe that…..Did I change a line? It is live. You know, really, everyone, keep calm."
He then expressed his love for Kanye saying: "Let me just, for the record….I absolutely love Kanye," he said. "So there's that. We love Kanye right?"
Ha! Good one JT. Well played sir.
Now, where's that highly anticipated response from Kanye? We're still waiting Yeezy…
WATCH JUSTIN TIMBERLAKE'S "JIMMY FALLON" INTERVIEW HERE:
Be the first to receive breaking news alerts and more stories like this by subscribing to our mailing list.