America's top role model Christopher Brown took his tom foolery and bad boy attitude over to Accra, Ghana for the country's independence day celebrations last week. Sounds like an honor right? Probably a dignified trip full of culturally significant rituals and historic reverence. In fact, such a trip might do wonders for Chris' criminal image.
Quick! Call the press!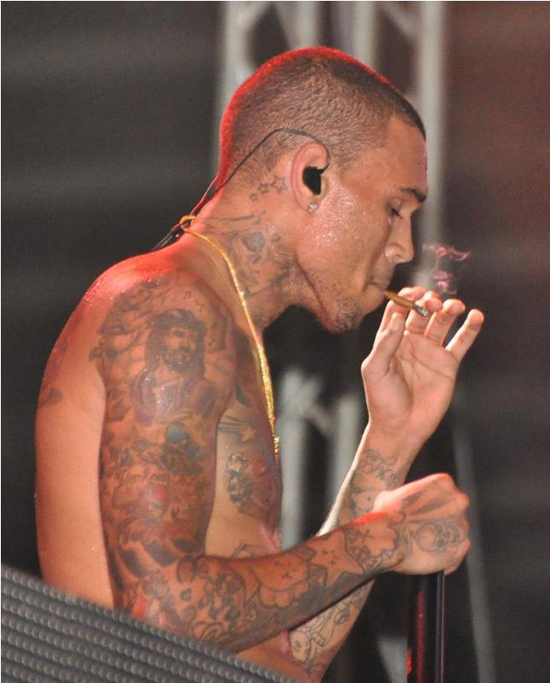 Crap! Cut the stage lights! Get those paparazzi out of here.
Yeah, you can imagine the fun Chris Brown's PR team has been having since news broke of Chris weed smoking on stage in Ghana.
GhanaCelebrities.com got the exclusive and they kept track of all of the ratchet shit that Chris did during his visit, which was procured by Ghana-based technological company rLG.
Chris Brown was supposed to arrive in Ghana early Monday morning to be able to attend the sod cutting ceremony alongside the President of Ghana-John Mahama, GhanaCelebrities.Com has learned.

The sword cutting and unveiling of the 'Hope City Project' took place yesterday with the President in attendance and Chris Brown missing. In fact even a day after the above event, Chris Brown is still not yet in Ghana (at the time of this publication 11:00am, 5th March).

From our source in the organizers camp, Chris Brown was contracted to make appearance at the all important unveiling ceremony alongside the President as well as stage a mega concert tonight.
He also was apparently supposed to make several appearances at radio stations for interviews ahead of his concert. But yeah, Chris blew them off too. If he refuses to do press in America what the hell made them think he'd do it in Ghana?
While many Ghanaians might feel like $1 million rLG put up was misspent and wasted on bringing Chris to Ghana, he did at least put on a good show.
GhanaCelebrities.com again has the exclusive:
His performance at the concert was amazing; he brought his usual electrifying stage craft and energy to Ghana. He performed several of his hit songs with patrons singing along.

His great performance which lasted over an hour was characterized with vulgar language which Ghanaians are not used to…

Instead of promoting rLG or throwing in a word or two about the brand, he decided to take the piss again by promoting the use of marijuana when he knows or ought to know this is an illegal substance in many countries including Ghana.

Whiles performing one of his songs, he happily asked if there were weed smokers in Ghana and proceeded to say "if anybody's tripping on you smoking weed, fuck them".

He pulled out a rolled 'joint' and smoked it live on stage… No Ghanaian entertainer dare do this openly in Ghana and go free. The police would have been on him or the crowd would consider it extensively offensive. However, Chris Brown came, did it and flew away!
Well. Look on the bright side Ghana, at least all Chris did was show up late, curse and smoke weed. Back home in the States, he has a record for destroying property and assault. So y'all got off easy
Be the first to receive breaking news alerts and more stories like this by subscribing to our mailing list.