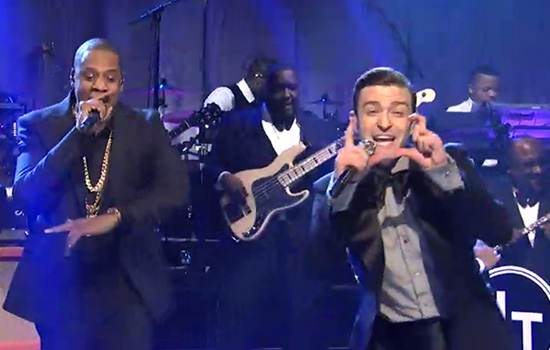 Last night was Justin Timberlake's fifth appearance as the host of SNL, and after performing a few skits, his final performance went out with a bang!
During his performance of his hit single "Suit and Tie" with rap superstar Jay-Z, Justin switched up one of his lines "shit so sick, got a hit and picked up a habit" to "my shit so sick got rappers acting dramatic" — an apparent subliminal diss to Mr. Kanye West, who a few weeks ago during a performance in London infamously went on a rant about a number of things, one of them being Timberlake's new single with Hov. "I aint fucking with that 'Suit and Tie,'" he said specifically.
After weeks of the media going crazy over Kanye's statement, Justin has finally decided to respond in his own way, and what's better than during a huge SNL performance with Kanye's "big bro"Jay-Z? We know Kanye is not going to be a happy camper about that one.
Could there be tension brewing in Kanye and Jay-Z's relationship? Who knows, but we can guarantee you Jay wasn't feeling Kanye's highly publicized negative opinion of a record that he himself is on.
Is it possible Jay wasn't aware of Justin switching up the lyrics? Maybe, but for a performance on SNL, we're sure the two did some rehearsing. Maybe Justin switched it up as an impromptu.
Not sure how this is going to turn out, but we're just waiting for Mr.West's response. And given Kanye's timeline we won't be waiting very long.
WATCH JUSTIN TIMBERLAKE'S SNL PERFORMANCES HERE:
"Suit & Tie" (feat. Jay-Z)
"Mirrors"
Be the first to receive breaking news alerts and more stories like this by subscribing to our mailing list.