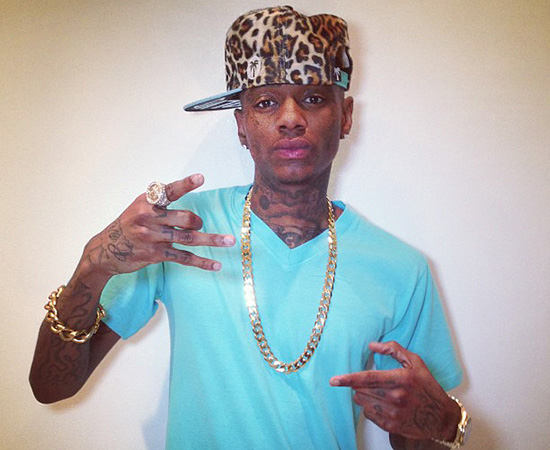 Apparently, Kanye West and A$AP Rocky aren't the only rappers who don't approve of MTV's "Hottest MC's of the Year" list, because Soulja Boy says he doesn't agree with it either.
The annual list features what a panel of judges curated by MTV deem to be the hottest rappers of the year. In order to even be considered, you have to release music within the judging period, and you must be successful and have strong record sales and an even stronger social media following.
Some rappers have praised the list, like Kendrick Lamar, who called it "important for Hip-Hop" (Sidebar: Of course he would say that, he's #1 on the list! LOL).
But others have criticized it, like Kanye, who didn't agree with his position, and the fact that his favorite rapper didn't make number one, telling New York City radio station Hot 97, "I think that Wayne is the number 1 rapper in the world," and making it known that he bought MTV Hip Hop correspondent Sway his first TV.
Newcomer A$AP Rocky is another rapper who was featured on the list, but didn't quite agree with his #8 position, and exploded into a rant in an interview with Los Angeles radio station Power 106, listing off all the things he's brought back — "braids" being one of them — and basically saying that MTV shouldn't have even put him on their list at all if they weren't going to give him the top spot.
The beef Soulja Boy has with the list, however, is a bit different than Kanye or Rocky's. Soulja Boy isn't even on the list. Never has been, and never will be. And of course he's upset about it, so he took to his Twitter, calling the list "bullshit," and accusing MTV of being "biased" over who they chose to place on the list, which he accused of being "fixed."
THAT NEW MTV LIST IS SOME BULLSHIT. IT HAS NO CREDITABILITY AND THE JUDGE PANEL HAD NO PASSION. IT WAS FIXED AND BIASED. NEXT YEAR THO

— Soulja Boy (@souljaboy) March 8, 2013
Next year? Ha. Maybe if MTV decides to make a "Coldest MCs" List.
Be the first to receive breaking news alerts and more stories like this by subscribing to our mailing list.