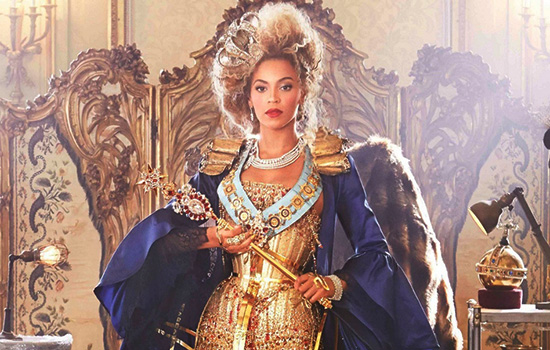 Beyonce may be gearing up for her "Mrs. Carter Show" world tour, but little is known about her upcoming fifth studio album.
Earlier this week, a photo leaked allegedly showing all of the album's details including the name, release date and track list.
"A guy from Stargate accidentally leaked this photo from the studio where Beyonce [is] recording her 5th album," the caption read with the accompanying photo. (See below)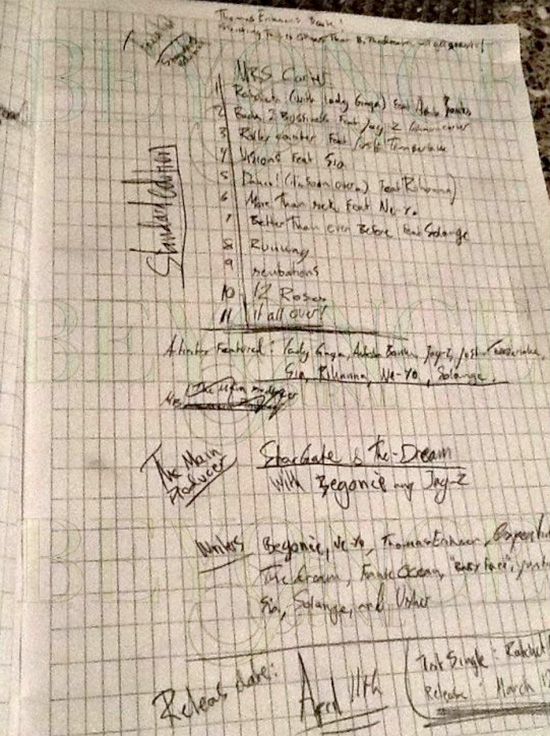 However, the photo appears to be a fake. "A very reliable source tells us that this track list is absolutely fake," Idolator reported.
Beyonce's friend and songwriting collaborator Ne-Yo was asked about the legitimacy of the leaked track list, but even he doesn't know whether or not it's real.
"I saw that Beyoncé's track listing just leaked and I've got a couple of joints on there, which is good news. I'm very happy about that," told the UK's Digital Spy. "I don't know, I mean you never really can tell until the album comes out."
He added, "I can't say much else as I've been sworn to secrecy! I'm actually happy that no songs have leaked from it yet. Hopefully this is a sign for the future – that music can come out when it's actually supposed to come out."
If the photo purportedly showing the track list for Beyonce's as-yet-untitled fifth studio album is real, collaborations would include Lady Gaga and Azealia Banks on "Ratchet" (the rumored first single), Justin Timberlake on "Roller Coaster," Rihanna on "Dance (I'm Soon Over)," her sister Solange Knowles on "Better Than Ever Before and her husband Jay-Z on "Back 2 Business."
If the leaked track list (below) turns out to be the real one, what do you think about it?
"Ratchet" (feat. Lady Gaga & Azealia Banks)
"Back 2 Business" (feat. Jay-Z)
"Roller Coaster" (feat. Justin Timberlake)
"Visions" (feat. Sia)
"Dance (I'm Soon Over)" (feat. Rihanna)
"More Than Sex" (feat. Ne-Yo)
"Better Than Ever Before" (feat. Solange Knowles)
"Runway"
"Sensations"
"12 Roses"
"It's All Over"
Be the first to receive breaking news alerts and more stories like this by subscribing to our mailing list.