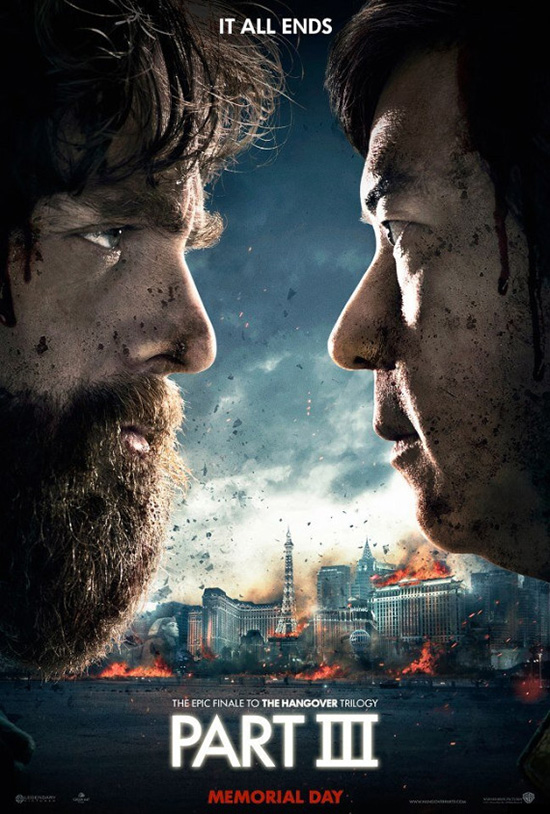 The new poster for the highly anticipated "Hangover Part 3" is here and it's pretty epic! It features the film's stars Zach Galafianakis and Ken Jeong as characters from the final "Harry Potter" film "The Deadly Hallow: Part 2."
Galifianakis is clearly representing Potter (Daniel Radcliffe) while Jeong represents Lord Voldemort (Ralph Fienes).
Of course, that's where the comparisons between the young adult franchise and the politically incorrect comedy end.
The comedy, which follows our beloved Wolf Pack, is set to hit theaters on Memorial Day.
Most of the stars from the first two installments, like Galifianakis & Jeong, Bradley Cooper, Ed Helms, and Justin Bartha are all set to return, and a few welcomed additions have joined the cast for this one, including Melissa McCarthy and John Goodman. Heather Graham, who was in the first film but absent from the second, will also make an appearance.
The highly original "Hangover" was boats loads of run while the sequel was pretty much a watered down repeat of all of the jokes in the first one.
Let's hope that the third one aims higher.
Be the first to receive breaking news alerts and more stories like this by subscribing to our mailing list.