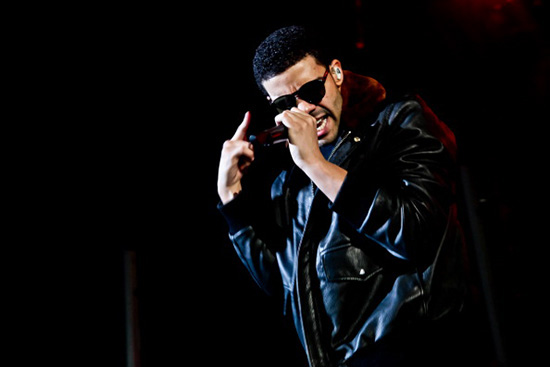 Sounds like someone has a lot to get off their chest. Drake released his new song "5 A.M. in Toronto" early this morning via his blog, and he holds nothing back he fires shots at Chris Brown, Rihanna, Common, his former friend The Weeknd and even MTV!
Drizzy's first few lines take aim at MTV's much-debated "Hottest MC's in the Game" list, where Drizzy falls in at number 5, something he likely doesn't agree with judging by these lyrics:
"I swear, fuck them niggas this year/ I made Forbes list, nigga / Fuck your list, everything's lookin' gorgeous."
Elsewhere, the rapper takes shots at fellow Canadian The Weekend, whom he's seemingly had a recent falling out with:
"I show love, never get the same out of niggas / Guess it's funny how money can make change out of niggas / For real, some nobody started feeling himself / A couple somebodies started killing themself / A couple albums dropped those are still on the shelf / I bet them shits would have popped if I was willing to help."
And from there, Drizzy seems to throw a few shots towards rapper Common, and then address his beef with Chris Brown and his rumored romance with Rihanna:
On Common: "I'm headed to the bank nigga/ Sinatra lifestyle, I'm just being Frank, nigga."

On Chris Brown: "Bad press during the summer over allegations / I ain't lyin', my nigga, my time is money / That's why I ain't got time for a nigga whose time is comin."

On Rihanna: "Where you think she at when she ain't with you? / Wildin', doin' shit that's way out of your budget / Owl sweaters inside her luggage, you gotta love it / Damn, this shit could go on a tape."
It isn't clear whether or not this track will appear on Drake's forthcoming album 'Nothing Was the Same,' led by Drizzy's new single "Started from the Bottom."
LISTEN TO DRAKE'S "5 A.M. IN TORONTO" HERE:
[H/T: The Boombox]
Be the first to receive breaking news alerts and more stories like this by subscribing to our mailing list.