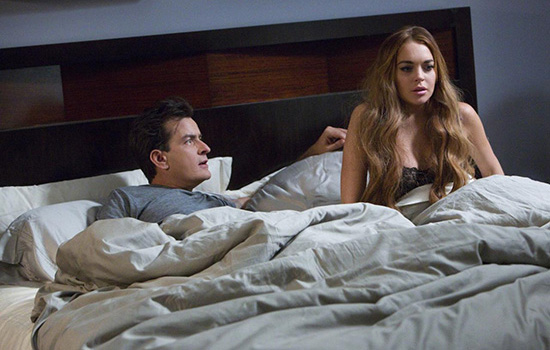 It seems that Lindsay Lohan is finally showing that she has the mental capacity to make a good decision. TMZ is reporting that Lohan is rejecting Charlie Sheen's offer to become her mentor.
Sources close to LiLo tell TMZ … while she appreciates everything Sheen has done for her — and he's done a lot — she would NEVER take him as a mentor. She's saying she knows her life is "out of control," but doesn't think the precept, "It takes one to know one," is the way to go.
The news comes after the site reported that Sheen wanted to mentor the court room loving star.
"I have a kinship with somebody who clearly needs a mentor, whether she wants one or not," the actor said of Lohan. "She can continue to hang out with her dress shredding club buddies, or turn to me for some advice from a guy who's been down the road as well as every other side trail on the journey."
Sheen added, "If she listens, she'll win. If she doesn't, that's on her."
Though Sheen paid the $100,000 that Lohan owed in taxes for 2009, Lohan allegedly doesn't see him as a person one should seek advice from.
Too bad she couldn't employ the same common sense when she was deciding whether or not to star in "Liz and Dick," or hitting pedestrians with her car, or driving while intoxicated, or stealing necklaces, or lying to the cops, or punching strangers in the face at nightclubs, etc. The list goes on, and on, and on.
Lohan is set to appear alongside Sheen in the upcoming "Scary Movie 5" and may guest star as herself on his series "Anger Management."
According to Entertainment Weekly, the actress will play Sheen's love interest.
Yuck!
Be the first to receive breaking news alerts and more stories like this by subscribing to our mailing list.