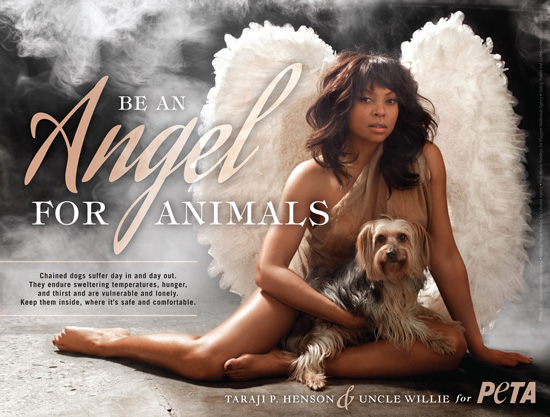 Just when we thought we couldn't love Taraji P. Henson anymore than we already do. In a very touching and inspiring behind the scenes clip from her photo shoot for PETA's "Be An Angel For Animals" campaign, Taraji expresses her true love for dogs, shedding light on their loyalty, all while bringing awareness to so many dogs that don't have homes.
She said, "Dogs to me are like children. They are the closest thing to God. They're so pure in their love and all they do is aim to please. You can watch video of someone abusing a dog and what does the dog do? He'll get up with his eye swollen and blood leaking and he'll still love you. That's the epitome of unconditional love."
"I never thought I could be in love with an animal until I had Willy," Taraji said about her own dog, who appears in the ad with her. "He's our family. He has beds in every room. He travels everywhere I go. He's just the best companion."
She added, "I guess what was very intriguing to me was to find out that they build houses to combat the problem of people leaving their dogs outside and unchained. We're going to build a house for the dog, so that at least when its raining they have something over their heads."
PETA is doing an amazing job creating different innovative ways for animal awareness. So many celebrities have been on board with PETA to show just how crucial the needs of animals really are.
Sometimes we see stray dogs and we don't even think twice about whether or not it has a home, or if it has food to eat, or if it starts raining, will the dog have a place to go for shelter?
There are so many things that we can do to help. After watching this clip, I think many will be touched.
FYI: This marks the second time Taraji has done an ad for PETA. Back in 2011, she posed naked for their "Fur? I'd Rather Go Naked" print ad.
Be the first to receive breaking news alerts and more stories like this by subscribing to our mailing list.