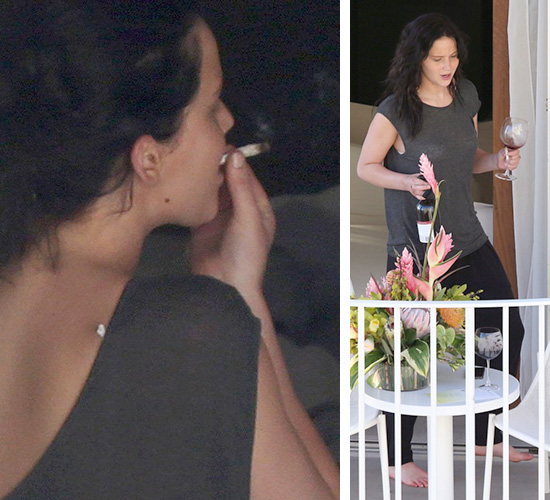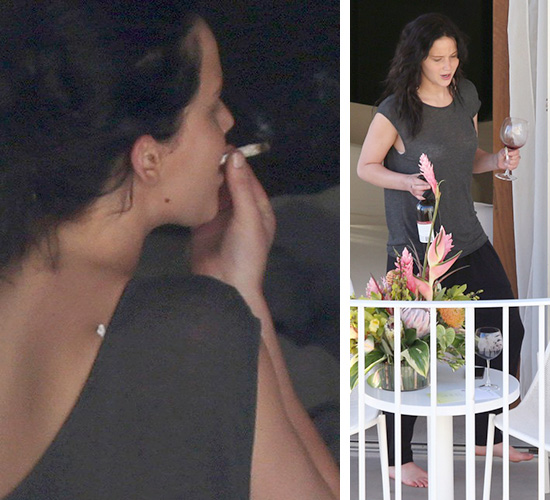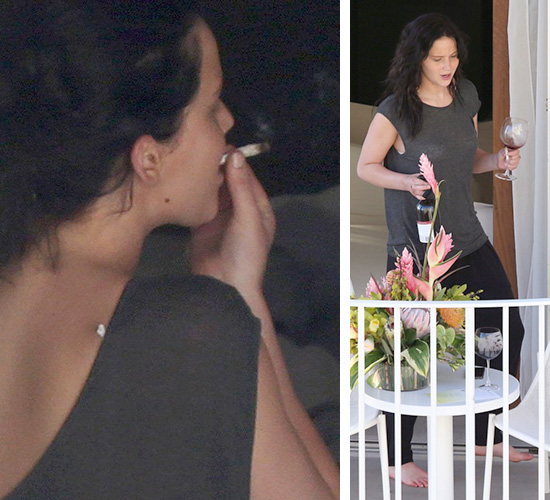 With great success comes great media monitoring and no one knows that better than Jennifer Lawrence. The "Silver Linings Playbook" star was snapped smoking weed during a trip to Hawaii.
The newly brunette star, was photographed (no doubt by a long lens camera that was held by a paparazzo who was probably hiding in the bushes) unwinding with a glass of wine, and what appears to be a joint.
Lawrence, who is makeup free and sporting sweats in the photos, probably had no idea she was being photoed. And of course, because everyone loves her, these photos likely won't make a difference in how fans of the star or the media view the actress.
For instance, Hollywood Life is shrugging off the "suspicious cigarette" because the star "deserves a break," and Jezebel asks, "Is there a better way to celebrate an Oscar win? Love you girl, wish we were there."
Vulture went a step further, claiming that the star is entitled to a weed break because of her busy schedule and highly publicized fall at the Oscars.
The woman's been doing nonstop interviews for months now, she's been to every awards show under the sun, and she just fell in front of "billions" (probably just tens of millions — don't lie to us, Academy) of people while accepting an Oscar. So if Jennifer Lawrence wants to chill with some weed and wine, then Jennifer Lawrence can chill with some weed and wine. (If that's what that is. The weed, we mean. That's obviously wine.)
It's nothing like when Kristen Stewart was snapped lighting up a bowl in 2008 and everyone and their mother pounced on her for being a bad role model.
That's because while K-Stew can't catch a break, Lawrence's likability is frequently discussed.
MORE PHOTOS OF JENNIFER LAWRENCE SMOKING WEED HERE:
Be the first to receive breaking news alerts and more stories like this by subscribing to our mailing list.