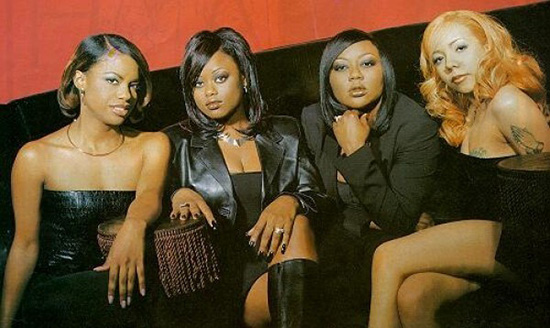 The 20th anniversary of Jermaine Dupri's So So Def record labels brought out the big dogs, including Jay-Z, who memorably collaborated with the pint-sized producer and sometimes-rapper back in the '90s on their hit "Money Ain't a Thing."
But one of the more memorable '90s acts from So So Def's roster was noticeably absent from the event: Xscape.
Bow Wow was real heated about Kandi in particular not showing up, even though Tiny and Tamika both said they wouldn't be in attendance as well. The YBF got a hold of Bow Wow's Facebook rant.
"JD likes to keep quiet but… Yo Kandi is wack for not wanting to show up for jd for "20th anniversary so so def show" put ego to the side and give the fans what they want and understand w/ out jd know one would even know who you are. You aint Michael, this aint the Jackson 5. She act'n like she booked out like she too busy! Better yet dont come. The ones thats there are the ones who really got live for JD and the history if the label."
Um, isn't this bamma with Young Money now? Why's he acting like he's been soooo loyal to JD? And who asked him to be Jermaine's attack dog? Someone better put a leash on this little poodle.
Kandi, however, explained her absence at the So So Def 20th anniversary party on Big Tigger's show.
"Me not coming to the reunion has nothing to do with me being disrespectful to Jermaine. I always feel like I will be in debt to him for what he's done to my career, and I appreciate everything that he's done… for me," Kandi said.
"I'm just going to be honest and tell you, I don't feel like all the members of my group, they don't really have love for me like that," she said. "Tiny has love for me, but over the years people have told flat-out lies about me in public, dogged me, blamed me for everything that done went wrong in their life. To me, it's just a situation where I feel like I don't want to go back to that."
Basically, she's firing shots at LaTocha Scott, the one who was formerly fat. She spread a real nasty rumor that Kandi not only hooked up with Jermaine, but also his father. Scandalous.
"To this day now, I have to see people try to say that I had sex with Jermaine's father. She said that just to make me look bad to people. She came back to apologize to me, but she never apologized in public," said Kandi.
So if you were holding out hope that one day, we'd get a 2013 rendition of "Understanding," it ain't never gon' happen. Xscape is dead and buried like 50 Cent's rap career.
Be the first to receive breaking news alerts and more stories like this by subscribing to our mailing list.