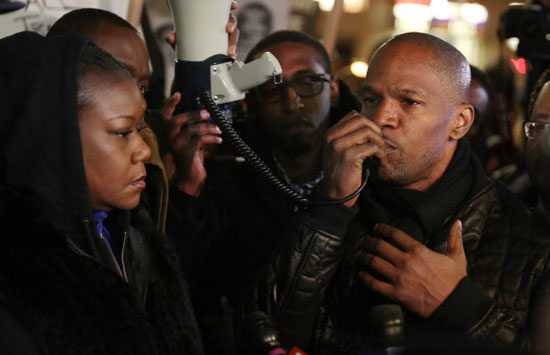 The one-year anniversary of Trayvon Martin's shooting death was marked with various memorial vigils held across the United States on Tuesday (Feb 26). At the official anniversary vigil for Martin in New York City, where advocates were protesting national gun laws and racial profiling, among the demonstrators were Martin's parents, and actor/singer Jamie Foxx — who reportedly spoke and sang to the crowd through a megaphone.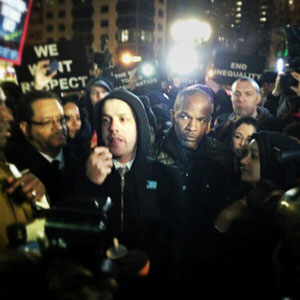 In footage obtained by CNN, Foxx told the crowd:
"Don't think about the color of the child. Think about that child going to school, think about that child hanging out with his father, with his mom. Skiing, skateboarding, doing all these fun things that a 17-year-old child does, and then think about this child on his way home to see his father and then all of a sudden that child has his life taken from him."
Addressing Martin's parents directly, Foxx said, "We all want to let you know that we love you and we're not going to leave you," before he broke out into song. "No weapon, formed against you, shall prosper," he sang.
WATCH HERE:
About one year ago, on February 26th 2012, 17-year-old Trayvon Martin was walking through his father's gated community in Sanford, Florida (near Orlando) when he was shot and killed by neighborhood watch volunteer George Zimmerman.
The teen was unarmed at the time of his death, and was wearing a hoodie and only had a pack of skittles and a can of Arizona iced tea that he had just purchased at the gas station on him, which became national symbols representing his murder.
Initially, citing Florida's state-wide "Stand Your Ground" laws, Zimmerman claimed claimed self-defense in Martin's shooting death, and was not immediately prosecuted. But that all changed a few months later when a Special Prosecutor charged Zimmerman with murder in the second degree, to which Zimmerman pleaded not guilty to and is currently out on a $1 million bond while he awaits trial this June.
Zimmerman has also requested a hearing under the stand your ground law provisions, which is scheduled to begin in April.
"This is the one-year anniversary of this death, this is a somber day for us," Trayvon Martin's father Tracy said at the anniversary vigil. "But also it's a day of peace for us, because we know as parents we've done all we can do to make our children's lives right."
Martin's mother Sybrina Fulton added, "I'd just like to say that I'm the mother of two boys. I have one son on Earth and one son in heaven. I will continue to fight for my boys as well as your boys and girls."
Be the first to receive breaking news alerts and more stories like this by subscribing to our mailing list.